JINX making Overwatch character themed hoodies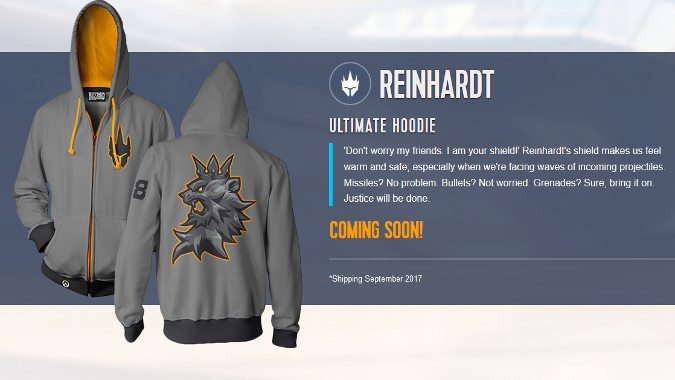 I want this Reinhardt hoodie. So. Badly.
The folks at JINX are making a series of Ultimate Hoodies for Overwatch, which will be available in September of this year. At present, seven characters — D.Va, Lucio, Genji, Roadhog, Zarya, Reinhardt, and Widowmaker — will be available, with more to come later. The D.Va hoodie is a slight exception to this, however, as it will be shipping out in August, with limited quantities available at Hot Topic starting in July. The remainder of the Overwatch character roster — including the surprisingly absent Tracer — will be heading to JINX sometime in 2018.
The hoodies will cost $59.99 US and range in sizes from XSmall to 4XL. Pre-orders for the hoodies will begin at 10:00 a.m. Pacific on June 27, though the page specifically mentions they'll be in "VERY LIMITED QUANTITY," so be on your toes if you want one.
In the FAQ — which is worth reading for its comedic value alone — it's also mentioned that at least one of the hoodies will be available in a different color variant, to be revealed at BlizzCon. Sadly, alternative colors for each hero are not on the table for the foreseeable future, as it would delay production of the rest of the characters' hoodies.
So yeah. Overwatch hoodies. I'm kind of amazed it took this long.