Get a free arena run and other rewards with Ahune's Frost Festival, mortals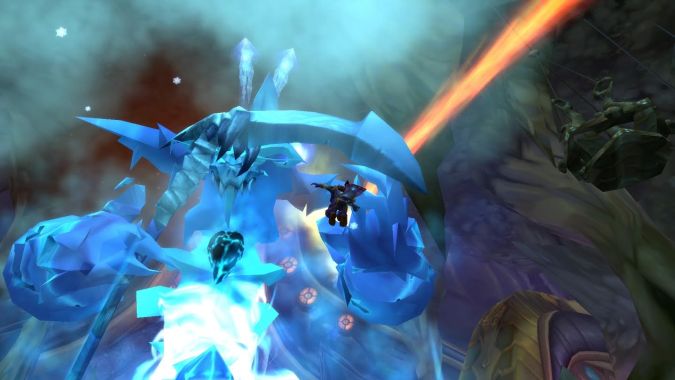 Not to be outdone by Ragnaros' Midsummer Fire Festival, Ahune has stepped in and initiated the Midsummer Frost Festival. This celebration is more arena oriented. Upon logging in, players will be greeted with a free arena run during the Frost Festival. You'll also get a new quest where all you need to do is play three games of Arena. Ahune's generous, though, and grants players a free win on runs started during the Frost Festival. Since that free arena run guarantees you three games, it's pretty easy to get your hands on the reward.
You can also chill out in this week's Tavern Brawl, which is Ahune's Superior Brawl.  This Brawl sounds pretty straightforward — destroy Ragnaros Dummies faster than your opponent, while using a pre-made Paladin or Mage deck. But there's a twist to the challenge: your hero can't be healed, nor can they keep armor. Completing Ahune's quests will reward you with Knights of the Frozen Throne packs.
All hail Ahune!
I, FROST LORD AHUNE HAVE COME TO SAVE YOU FROM RAGNAROS' TERRIBLE MIDSUMMER FIRE FESTIVAL! I WILL REPLACE IT WITH A MUCH COOLER PARTY!
FROST THINGS FROST, LET'S TALK ABOUT THIS FIRE FESTIVAL THING.
FIRE IN SUMMER? THAT'S SNOOOOW CLEVER, RAGNAROS. QUESTION: DO YOU NEED MORE FIRE DURING A HEAT WAVE? ANSWER: NO, BECAUSE FIRE IS FOR LOSERS. FIRE IS ALSO A TERRIBLE PARTY DECORATION. YOUR HOUSE BURNS DOWN WHEN YOU DECORATE WITH FIRE. WHICH IS DUMB. LIKE RAGNAROS.
LET'S TALK FROST FESTIVAL!
THE FROST FESTIVAL IS THE COOLEST PARTY OF ALL TIME, AND I'VE GOT SOME GREAT STUFF SLEETED FOR YOU.
DECORATIONS! EVERYONE KNOWS THAT TAVERN IS A CHILL PLACE TO HANG OUT, SO I WILL MAKE IT SPARKLE WITH FROST.
WHEN YOU BREAK THE ICE YOUR OPPONENT SHOULD KNOW HOW COOL YOU ARE, SO YOUR EMOTES WILL NOW SPORT SOME SNOWFLAKES FROM ME. THIS IS AWESOME.
I HAVE PREPARED A FEW ARENA QUESTS FOR YOU TOO, WITH SOME VERY SPECIAL REWARDS: KNIGHTS OF THE FROZEN THRONE CARD PACKS*!
ICE IS NICE (HA HA I RIMED**), SO I MADE SOME CHILLY CHANGES TO THE ARENA.
THERE WILL BE A TAVERN BRAWL FEATURING ME, AHUNE. HAIL YES!
IN CONCLUSION, YOU WILL HAVE A BLAST AT THE FROST FESTIVAL, MORTALS. DON'T FLAKE OUT–I LOOK FORWARD TO YOUR ARRIVAL WITH GREAT PRECIPITATION.
*THERE'S A FREEZE ON OPENING THESE PACKS UNTIL KNIGHTS ARRIVES!
**ICY WHAT I DID THERE. I SLEIGH ME.