WoW
Sep 6, 2017 8:20 pm CT
Latest WoW hotfixes address more Argus quests and fel lava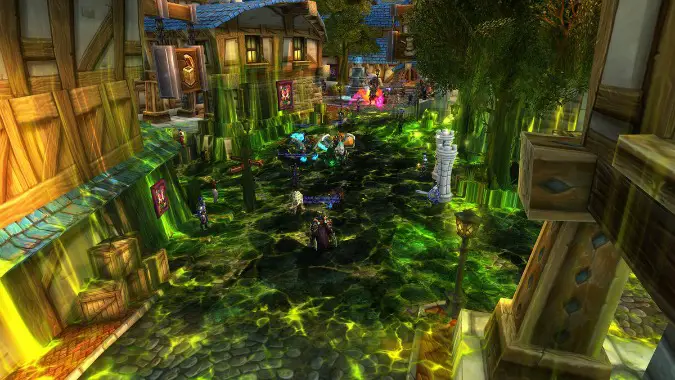 Argus quests are getting a little more love in today's WoW hotfixes. The "Core Mechanics" World Quest that was up yesterday has had it objective reduced by over half. Instead of trying to get 20 Crystalline Construct Cores, which was really annoying when each mob only had a single one, you now only have to get 8.
Since there aren't many Argussian Reach World Quests available right now, the Argussian Reach emissary quest was adjusted. This isn't really a surprise, as Blizzard did this before with the Kirin Tor emissary as well when Kirin Tor World Quests weren't spawning frequently. Today's Argussian Reach Emissary will only require completing three Argussian Reach World Quests instead of the usual four. Next week, when the final chapters in Argus open up and being more World Quests, the emissary will go back to needing four World Quests.
Also in the hotfixes were some class visual and audio bugs that are in testing, as well making sure the fel lava doesn't damage pets anymore. Check out the full hotfixes below.
Argus
Fel Lava on Argus will no longer damage pets.
The number of World Quests required to complete the Argussian Reach Emissary is reduced to 3 (was 4) until next week, when more Argussian Reach World Quests will become available.
Classes
[Hotfix in testing] Fixed a bug preventing Starsurge from having visual or sound effects.
[Hotfix in testing] Fixed a bug that made Void Eruption's Vampiric Touch missile display incorrectly.
Elemental Overloads should correctly hit if the target is behind the caster.
Dungeons and Raids
Humanoid mobs in low level dungeons should drop gold once again.
Pet Battles
Fixed a bug in which Gloamwing and Snozz counted for each other toward the Aquatic Assault achievement.
Quests
The objective requirement for the "Core Mechanics" World Quest has been reduced to 8 Crystalline Construct Cores (was 20).