WoW
Sep 19, 2017 4:03 pm CT
Fel Lasher drop rate and Grand Lector Enaara fixed in latest WoW hotfixes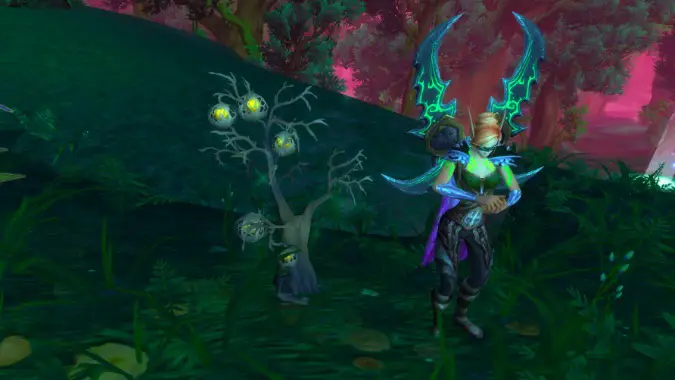 Apparently Herbalists can get a pet from herbing in Argus. I certainly didn't know that, mostly because the drop rate has been so low that I've never seen one. Apparently Blizzard thought it was too low as well. Today's hotfixes adjusted the drop rate, making the pet less rare. It now has a chance to come from Astral Glory in addition to Fel-Encrusted Herbs. If you don't have an Herbalist or aren't blessed by RNG, never fear. There will probably be plenty on the Auction House as more players find these when picking flowers on Argus.
Also included in this round of adjustments were a few class and quest bug fixes. Argus quests received some fixes for visuals and a bug with quest abandonment, and disappearing NPCs have also been taken care of. For any low level questers or anyone on Argus who noticed Fiona's Caravan or Grand Lector Enaara were missing, the two have now been properly put back where they should be.
Check out the full hotfixes below.
Classes
Paladin

The Netherlight Crucible trait Infusion of Light will no longer proc from Greater Blessing of Wisdom healing.
Non-Player Characters
Fiona's Caravan should no longer be mysteriously missing on some servers.
Grand Lector Enaara should now properly appear during the world quest "Recurring Madness" on Mac'Aree for all players.
Player versus Player
Druid

Feral

Enraged Maim (Honor Talent) will now be properly removed from targets when they take damage from abilities and spells.
Professions
Herbalism

Fel Lasher drop rate increased. It can now also drop from Astral Glory on Argus.
Quests
The Tomes of Torment are no longer difficult to see during the quest "Lessons of Fire and Pain".
Abandoning "Talgath's Forces" or "Flanking Maneuvers" after completing one quest should no longer prevent you from re-acquiring the other.