WoW
Nov 2, 2017 5:00 pm CT
The mounts of Antorus, the Burning Throne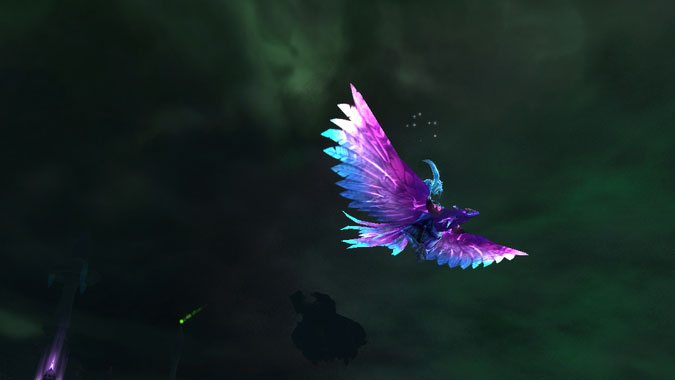 Tomb of Sargeras didn't have any special mount drops aside from the Abyss Worm, a special drop from Mistress Sassz'ine that you could get even on LFR difficulty. Antorus, The Burning Throne has upped the ante on mounts however, with a grand total of four possibilities for you mount collectors. Wowhead has put together the four ways to get mounts — some are definitely easier than others.
If you want to go into Antorus unspoiled, this post will contain spoilers for the raid.
The first mount available is the Shackled Ur'zul from Mythic Argus the Unmaker. To obtain the Ur'zul, you'll need to kill the last boss of the Antorus raid on Mythic difficulty. So it's simultaneously easy to explain, and pretty hard to actually pull off. Good luck to everyone in the hunt for Mythic Argus. You're going to have to kill him a bunch of times to get one for everyone in the raid.
Meanwhile, anyone who completes the achievement Glory of the Antorus Raider will get the Antoran Gloomhound mount. This one requires you to kill various Antorus bosses while making the fights harder by ignoring or otherwise not coping with the mechanics in the usual way. On the up side it's doable in Normal or above. As you outgear the fights, you can step it down to earn the achievement.
I have mixed feelings about achievement based mounts. They take a lot of work and can derail progression, but they're often a lot more raid friendly. You can usually complete the achievements without struggling with Mythic encounters. Because of this, people tend to get the mounts more readily.
The Antoran Charhound is a rare drop from the Felhounds of Sargeras encounter. Much like the Abyss Worm from Mistress Sassz'ine, it drops as personal loot. This means this could potentially be the most accessible of the four Antorus mounts. Mistress Sassz'ine's Abyss Wyrm drops on LFR difficulty — the Charhound might be the same.
Finally, the quest Blood of a Titan seems to come from killing Argus as well, although what difficulty is yet to be determined. If it's anything like Archimonde was in Warlords, it's likely Heroic or Mythic. The quest rewards the Kirin Tor Summoning Crystal which teaches the Violet Spellwing mount.
It's nice that Antorus offers a variety of ways to get those mounts. There's one achievement, one's a guaranteed drop from a Mythic boss, one's a random drop from a boss potentially on any difficulty, and one's a quest similar to last expansion's Grove Warden. Have fun, mount collectors.