The Queue: Sci-Fi or Fantasy?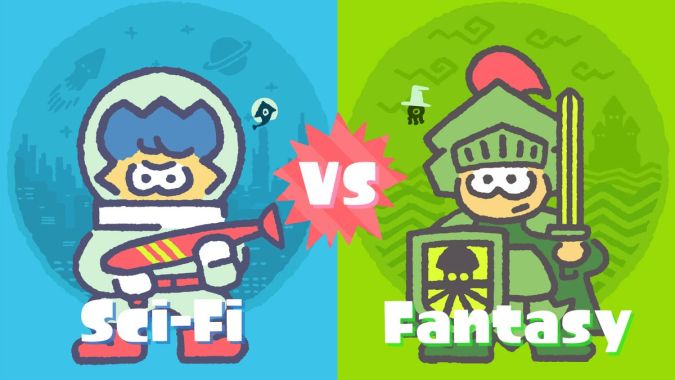 So, normally I wait until after the Splatfest has happened to tie it into a Queue, but this upcoming one actually asks a legitimately tough question: Sci-fi or Fantasy? Personally, I'm leaning Sci-Fi — the way I see it, Sci-Fi can technically encompass fantasy settings, but fantasy can't encompass Sci-Fi. For instance, Futurama's third movie or Doctor Who's visit to any number of Medieval-like locations.
Some people, however, argue that as soon as a Sci-Fi show sets foot in a fantasy setting, it's no longer Sci-fi, and therefore this "Fantasy within Sci-Fi" argument doesn't apply. I say phooey to them! But I'm always open to disagreeing with more people, so let me know how you all feel about this conundrum, as well as the general Splatfest question in general.
For now, here's The Queue.
---
Y'KNOW, WITH THE NEW LAYOUT, I COULD HAVE A BIT OF FUN HERE…
Q4tQ: I have a ton of reputation tokens saved up. So, should I use them to up the rep of alts, or spend them on the paragon rep? I only need two more of the mounts, but it'll get resources and money. Thoughts?
-Cypher
Personally, I'd go for using them on your main, but I'm also the type to really only focus on one character. All the same, what would your alts actually get out of the reputation? If there's a specific profession recipe or pattern, then maybe focus on that reputation, but most everything else is account-bound, yeah?
---
AERYN WOKE ONE MORNING, AS HE ALWAYS DID…
[Something about annoying ads]
-A lot of you
Trust me, we're aware that ads have been misbehaving lately. The best thing to do (and I apologize if I sound like a robot here) is to either email leads and include a picture of the ad or to just tweet directly to Adam, also with a picture. He's the one who takes care of that stuff — even when we encounter a bad ad, we send it his way.
---
ATE HIS BREAKFAST, SAID BYE TO HIS KID…
Holiday question, what is the common food for christmas for you? Me and my father are looking for new ideas :D
-Fallanger
Hm… I don't actually know if we have any "holiday-specific" meals in my family. And if we do, the whole "being a vegetarian" thing probably means I'm oblivious to it. I feel like I'm forgetting something, though, so maybe ask me this again after Thanksgiving (USA Edition). For now, I'll let the commenters sound off.
---
HE WAS SALUTED AND THANKED, ON HIS WALK TO WORK…
Do we need to farm up weapon replacements for our artifact weapons or is the AP just going away and leaving us with basic epic weapons? what ilvl will they be? or perhaps the quest to use up the artifacts awards new weapons?
-Landis
We're not entirely sure on the specifics yet, and it will probably change several times over the course of alpha/beta, to be honest. However, I wouldn't worry about farming weapons or anything now. Even if we lose our Artifact weapons, there's no way Blizzard would leave us high and dry and expect us to have something saved up. If anything, whichever quest (if that's the route they go) has use abandon our weapon will reward a replacement.
On the demos at BlizzCon, we just had a generic green-quality weapon. It was item level 185, but keep in mind, that's because Battle for Azeroth is going to have an item-level and stat squish.
---
APPRECIATED BY ALL, IT WAS QUITE THE JOB PERK…
Public Poll: Where is everyone at with their Artifact leveling? Are you going to 75? Beyond 75? Quitting at 75?
I'm almost to 73. I think once I get 75, I'll start leveling my two off spec Artifacts. Once those are at 75… well, I'll just keep plowing AP into my main spec Artifact until the sun sets. :)
-Saik
I'm behind on this, to be honest. I think I just got my 69th trait (huehuehue). When it comes to Artifact traits and AP leveling, I sort of… gave up setting goals. I just play the game. I'm not sure if demoralizing players into not caring was the exact route Blizzard wanted us to take to reach that point, but here I am — it's more worth it to just play the game and get AP as a side effect than it is to focus on where I am in terms of "X traits out of 75."
---
'KEEPING US SAFE,' HE FELT, WASN'T HIS 'BIZ…
QftQ:
If you could murder a major lore character in WoW in the next patch or the patch before BfA, who and why?
Me…Tyrande, my god just replayed her quests in Druid land and I wanted to hurl her into the nightmare. Wanted to stab her in the back with my warglaive knowing full well Illidan would murder the hell out of me when he found out.
-tjc569
I think the above video speaks for itself.
---
BUT SECRETLY HE HATED, THIS DUTY OF HIS…
Happy Monday, Queuevians! o/
I was superduper excited for the announcement of old-world zone scaling, and have been taken aback by the amount of pure hate I've seen regarding that decision. Complaints weirdly range from "Now leveling will be too fast/easy" to "Now leveling will be too slow/hard", with a smattering of people upset that they won't out-level mobs for 20 levels. I'm excited that I can quest-level speedily without having to switch zones every thirty minutes! (Edit #3: And that I have so many more zone options!)
My QftQ: What QoL changes could Blizzard make to the questing experience to fix your particular issues with it? I'd appreciate an XP slider, so we could choose our XP-earning rate, or turn it off entirely.
EDIT: Still typing. Baby made me hit "post". >.>
EDIT AGAIN: Ok, all done :D
-Eliza
So, uh, that second thing exists. You can already turn off your experience gain by finding your Bestehn Slahtz NPCs (get it?!) in your respective faction capitals. I honestly didn't know people had an issue with scaling… I'm not sure why. Leveling is fast as heck now, and just because you won't out-level mobs doesn't mean your heirloom gear won't make you plow through them (I mean, I think. Maybe I'm missing something).
I don't have an issue with leveling XP, to be honest. I would like gear upgrades to make more sense — why does some gear have worse stats with a higher item level? — and ability-gaining to feel more built around the leveling experience (though I know they changed some of this a few patches ago).
I dunno. I mindlessly destroy things and make my way through content right now, and the worst part of that is out-leveling a zone before I finish the story. This fixes that. Why complain?
---
STILL HE SAT AT HIS POST, ALL THE WHILE PRAYING…
Q4tQ: I just transferred my guild to a different RP server because my former one had been invaded by a podcast group of guilds. Now my new RP server is being invaded by a streamers guild. Neither of these groups are interested in RP and they go out of their way to disrupt RP. There are many regular servers and they choose RP ones just to bother roleplayers. I'm sick of this. Is there anything I can do?
-GinaC
I'm pretty sure you can report this sort of stuff in-game. RP servers have specific rules, and if people aren't RPing on RP realms, it's a legitimate rule-break. And if you have evidence of them actually going out of their way to disrupt RP? All the more power behind your case.
---
THAT HE'D ONE DAY FIND SOMEONE TO CONFIDE IN…
Q4tQ: If the Sub-races are received well in BfA, do you think Sub-classes would ever make it ingame (gameplay variants of existing classes, like DeathKnights having more ranged combat like traditional Necromancers, Warlocks "trying" to emulate Demon Hunters, Monks using Chi to become Bards instead, etc)?
As cool as I think this sort of thing could be, I don't think so. Sub-races work because they use existing models/skeletons and start at level 20 (thus eliminating the need for specific starter zones). In other words, they're purely cosmetic, and, relatively speaking, not that complicated to add. Anything that involves more balance or adds complication is, in my opinion, incredibly unlikely to happen on any sort of regular schedule. There's a reason a new class only gets added every couple of expansions, after all.
---
BUT UNTIL THEN, HE'D HAVE TO MAKE THE MOST OUT OF SAYING…
M'Dark Lady.
---
"AN ILLUSION?! WHAT ARE YOU HIDIN'?"
2BE (in lieu of Mitch's column here)
Arthas the Lich King vs Gul'dan (pick one)
-Mistah Jay for the above three questions
On the one hand, Arthas legit killed us, which Gul'dan never did. On the other hand, we beat Arthas because Tirion used the Light to save us, and Tirion died to Gul'dan because the Light didn't actually protect him like he expected it to.
But given we were right there and could have easily lent our support to Tirion, who was all "Nah, I got this, fam," I question his judgment (no pun intended). This round goes to Arthas.
That's it for today! I'm covering for Anne later, which, as she's pointed out to me, means Liz can retaliate to any comment-diverting I cause today and make my life more difficult on Thursday.
To that I say: Bring it >:)