Moira's skins, emotes, intros, and victory poses
Click here for more photos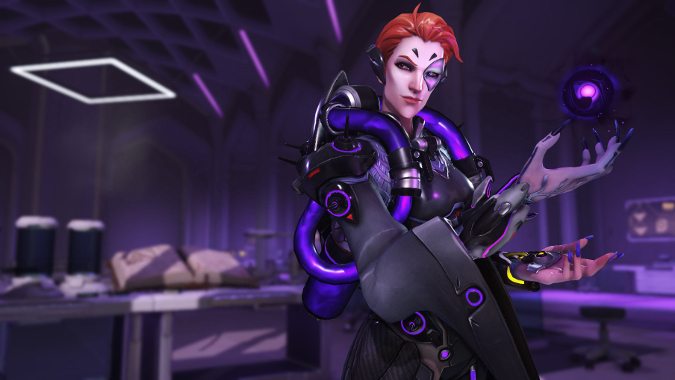 There's a lot to love about Moira, the new support hero coming to Overwatch. She's the first new support hero since Ana, and it seems like she'll make for a challenging and robust addition to the meta. She's a healer who does DPS to regain her healing power faster, and it looks like she's going to be pretty powerful in either respect.
That's great and all, but let's talk about what we're really interested in: her skins, highlight reels, and emotes!
Let's start off with our gallery of Moira's skins. My personal favorite skin is definitely Glam, the one patterned after David Bowie's Ziggy Stardust. Moira's base model already slightly resembles Bowie so it's a natural transition. Of course the Oasis skins have more in-universe appeal. Even her plain recolors have a lot to love. I like how her manicure changes in each one, for instance.
All these are currently available on the PTR for perusal, and will be making their way to live servers with Moira's release at an undetermined time in the future.
Her voice, as supplied by Genevieve O'Reilly, has a very slight Irish lilt. It's barely detectable in some of them, though of course certain sounds emphasize it more. Her voice very smooth and genteel, much like Moira as a character. She even has an emote which involves a courtly bow. Genevieve frequently adds a raw, dark edge to that smoothness when Moira talks about her work, though. She has a victory pose steepling her fingers, the universal symbol of an evil character.
Here's a video with all her emotes, highlights, victory poses, and voice lines from PCGamesN.