WoW
Nov 17, 2017 1:00 pm CT
Yes, you'll be able to get (most) Artifact appearances after Legion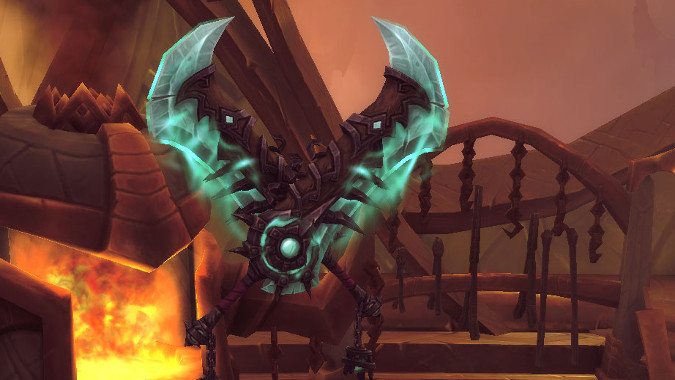 I've been wondering about Artifact appearances in Battle for Azeroth, especially considering our Artifacts are getting an epic sendoff and there's a whole new kind of Artifact in the next expansion. Are we still going to be able to go back and complete certain appearances that we just haven't finished either due to luck, time, or other stumbling blocks? Or are they locking our Artifacts and their appearances away once we level past Legion content?
Well, the folks at Blizzard took to the @WarcraftDevs twitter account to answer that very question. While some appearances will be going away, many of them will still be possible to earn once Legion is all closed up and Battle for Azeroth gets underway in earnest.
All Artifact appearances—with the exception of the Mage Tower and Mythic Keystone 15 challenge appearances—can be obtained after Legion ends. https://t.co/QEGgkhanu0

— WarcraftDevs (@WarcraftDevs) November 15, 2017
So we know that we'll be able to get everything except the things that are reliant on specific tests of skill that will presumably become trivial once we're all level 120. That's pretty cool but this does leave some questions unanswered. For example, what happens if you've already unlocked a Mage Tower or gotten the Mythic Keystone 15 challenge appearance, but not variant colors on the Mage Tower appearance or completed Balance of Power to unlock the appearance that requires both achievements to attain?
UPDATE: If you unlock the Mage Tower's base appearance before the end of the expansion, you can obtain the color variants for that appearance post-Legion.

— WarcraftDevs (@WarcraftDevs) November 15, 2017
To answer the first question, yes, if you finish the Mage Tower and get the special challenge appearance before the end of Legion, you can go back and obtain the color variants by satisfying the other requirements for them. You don't have to complete the Mage Tower and then do all the other steps to unlock all four color variants before the end of the expansion — as long as you do the Mage Tower first, you can relax and complete the rest on your own time.
Similarly, the Mythic +15 appearance doesn't impose a deadline on Balance of Power.
UPDATE THE SECOND: If you earn the Mythic Keystone 15 achievement during Legion, you can complete Balance of Power any time after Legion ends to unlock the appearance that requires both.

— WarcraftDevs (@WarcraftDevs) November 15, 2017
Since you can finish Balance of Power after Legion ends to unlock that appearance, it's only fair that you can do so after to unlock the appearance that depends on it and Mythic +15. The general approach is one I approve of — letting players unlock as many appearances as possible even after Legion is old content means that when I eventually level my Monk she won't be locked out of getting some of the really cool Artifact appearances.