Overwatch, Legion, and more discounts from Blizzard's Black Friday sales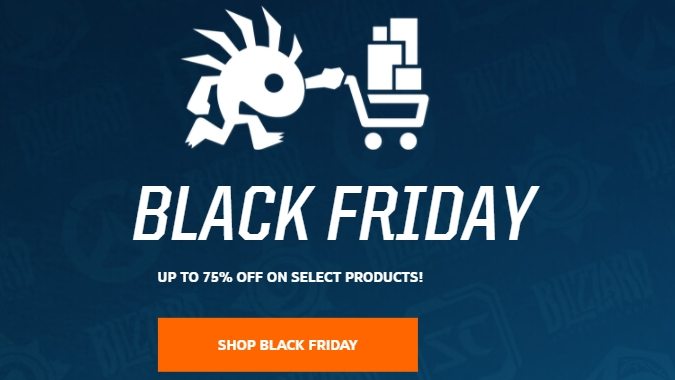 Update: A new day means new sales! Check out all the latest below.
It's the most wonderful time of the year! I'm not talking about Christmas or rosterpocalypse season, though those definitely make the top five. No, this is all about the secular holiday nearly everyone can get behind: Black Friday. Personally I'm not one for going out and starting a brawl over this season's hot new toy. I'd much rather sit in my jammies and surf the web for some great deals. There are a ton of them coming from Blizzard this year, so get your wallet ready.
For the person in your life who hasn't purchased 2016's Game of the Year, Overwatch is 50% off on all platforms until November 27. This makes the base game only twenty bucks, well within the budget for most office gift swaps. Just try to not look disappointed when you unwrap a scented candle from Pete from accounting when you know he could've sprung for Overwatch. "Mmm, cinnamon. Festive," you'll say unconvincingly.
If you (somehow) know anyone who isn't already playing World of Warcraft, the base game is down to $9.99, while Legion is down to $24.99. (And, hey, it's a good way to get those Recruit-a-Friend bonuses.) Heroes of the Storm is also offering Black Friday hero and skin bundles to flesh out your — uh, I mean your friend's — collection. (Because you're buying these as gifts, right? Of course you are.) And while not technically Blizzard, Destiny 2 can be had for 35% off, with the expansion pass bundle and deluxe addition available for 25% off.
If you're looking for something more cozy, cuddly, or otherwise tangible, the Blizzard Gear Store is having a bunch of sales. They have flash sales by franchise and a daily deal that lasts 24 hours, in addition to low prices on a bunch of stuff for the duration of the sale. Our friends over at Wowhead seem excited about the sale on November 22 on Warcraft apparel. Rachelle and my favorite Hearthstone cupcake card back shirt is on sale for just $10. If you're a pet collector in WoW, you'll probably be interested in a few of the plushies which come with in-game pets at a deep discount, like the Wind Rider Cub at 75% off.
These sales will wrap up on November 27, though Blizzard promises new deals on the 27th for Cyber Monday, but it's a mystery as to what they'll be.
If Blizzard gear isn't quite what your loved ones are looking for, you may want to keep an eye out for general gaming deals. Ultra hot racing-style gaming chair retailer DXRacer has an upcoming sale, as does the popular peripheral label CORSAIR. All else fails, retail behemoth Amazon tends to be a great place for deals this time of the year. I love my Razer Naga Hex, but the Amazon price on the Chroma is a steal.
With all these great deals, I may be able to get all my shopping done early this year. I hope my two year old likes his mahjong set!