Make your own hot chocolate ice cream bites, courtesy of Mei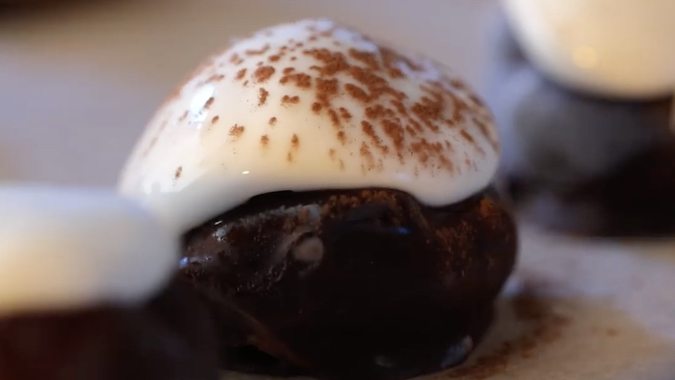 If, like me, you're trapped in the depths of winter and longing for a warm meal or beverage, you've come to the wrong place. BuzzFeed's Tasty has released another Overwatch-themed treat, this time pulling a hot chocolate switcheroo. The classic hot drink has been turned into chilly ice cream courtesy of Mei and her intrepid sidekick Snowball. (That can't just be cosplay and low budget special effects, right? …Right?)
BuzzFeed's website lists the full ingredients and instructions. Overall, this recipe seems like something just about anyone could make with minimal specialized equipment beyond a melon baller. Despite being ice cream, the recipe doesn't require an ice cream maker. Using whipped cream up front rather than cream on its own likely aerates the mixture enough to prevent it from becoming a dense block of ice once frozen. The sheer amount of marshmallow in the mix probably means this recipe is tooth-searingly sweet, but if you're eating ice cream, that's the point, isn't it?
This isn't Tasty's first crack at Overwatch-themed recipes — and considering Blizzard Entertainment appears to have sponsored these recipes as a Brand Publisher, they must be going over pretty well. They've also released Reinhardt's Smoked Sausage Tots, Ana's Chocolate Mint Glacier Cookies, and Junkrat's potentially-explosive popcorn balls.
Again, on one hand, this is a great festive treat — but up here in Wisconsin, ice cream is the last thing I want in the middle of December. Maybe folk due south would appreciate a chilly treat, but personally? Reinhardt's hot and hearty tots are more my speed.