Winter Veil Loot Chest gifting arrives in Heroes of the Storm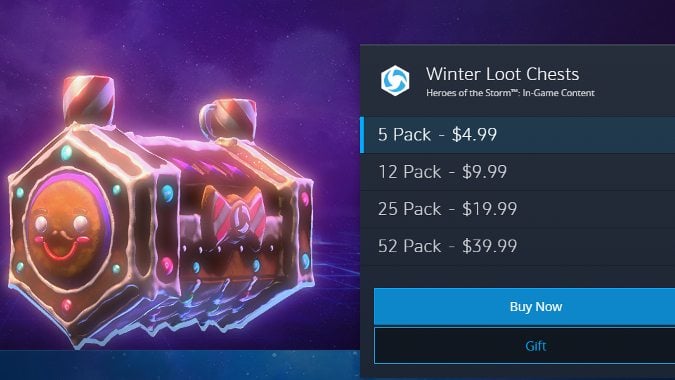 When Blizzard Battle.net implemented digital gifting back in October, Heroes of the Storm was the odd game out. Through Blizzard Battle.net, you could (and can) gift everything from digital games to Overwatch loot boxes and Hearthstone card packs. For reasons unknown, loot chests from Heroes of the Storm were not included. Two months later, you can now gift Winter Veil loot chests to your friends. The loot chest packages currently available are:
5 Pack – $4.99
12 Pack – $9.99
25 Pack – $19.99
52 Pack – $39.99
Curiously, in their announcement, Heroes of the Storm specifies only Winter Veil loot chests are giftable and states:
Winter Veil Loot Chests will only be purchasable as gifts during our holiday celebration, so be sure to share some wintery wonder with your friends before the event concludes on January 8, 2018.
On one hand, that makes perfect sense — during the Winter Veil holiday, all loot chests in Heroes of the Storm are Winter Veil chests. And once the Winter Veil event concludes, there will be no more Winter Veil chests. On the other hand, since gifting hasn't been available until now, their statement could mean the gifting option disappears entirely upon the event's conclusion. Will the Winter Veil loot chest packs become standard loot chest packs? Or will the option to send loot chests as gifts go away completely? We simply don't know.
In any case, all Heroes of the Storm players have received a free loot chest as a gift from Blizzard Entertainment. If you've never claimed a gift through Blizzard Battle.net before, Blizzard has provided this convenient graphic to show you where in the app you can do just that:

This free loot chest must be claimed before January 8, 2018. That's also the last day you can send loot chests to your friends, so pick up your freebie and get your Winter Veil gifts in while you still can.