Take a look behind the scenes of Hearthstone's Kobolds and Catacombs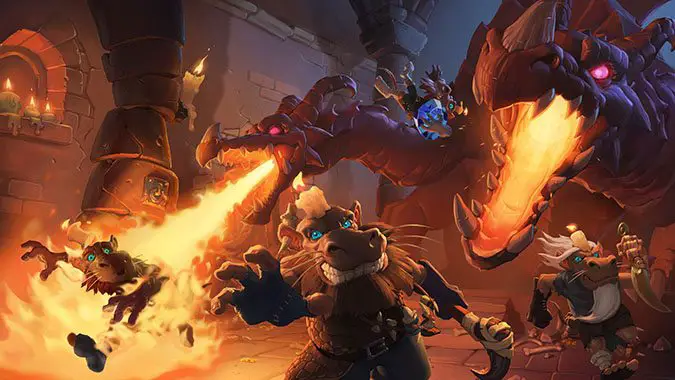 Blizzard has released a fun behind-the-scenes look at Hearthstone's latest expansion, Kobolds and Catacombs. I've been a player and fan of pen and paper RPG's since I was around ten years old. And I'm old, so that's a long time. And that's one of the reasons I'm so crazy fond of Hearthstone's new expansion, despite my being utter rubbish at playing it. Kobolds and Catacombs feels like the online card game version of one of those old modules I picked up as a kid.
A lot of the latest video goes behind the scenes of Kobolds and Catacombs' art and sound design. How often do you get to see an artist just blatantly admit that they made a character look like themselves? Senior Concept Artist Jomaro Kindred talks about designing The Lone Champion card and how he made it look like a buffer version of himself. It reminds me of so many old games I played in, and so many players who did exactly that. But there's a lot more to this expansion than that. FX artist Hadidjah Chamberlain describes what she does as getting to blow stuff up all day long. Her discussion of how she animated the deck for King Togwaggle to give character to the experience really got my attention.
In addition, we see voice actors like Matthew Mercer, Misty Lee, Dave Boat, Terrence Stone, and Kimberly D. Brooks — that's right, Ashley Williams/Princess Allura is in Hearthstone. You get a look at how they contort their bodies to create the outsized voices for these characters. It's kind of crazy to see the voice of Aluneth coming out of Mercer's mouth one second, and then hear him doing a guttural Ogre-sounding voice the next. And man, Misty Lee has serious range.
I just find this whole expansion enchanting from concept to execution, and this video even more so for the look at how it all came together that it provides. You should check it out. Ben Brode appears in this video and yet he's not the most excited person in it. I can hardly believe I wrote that sentence, but here we are.