Two free Winter Wonderland victory poses coming soon for Overwatch players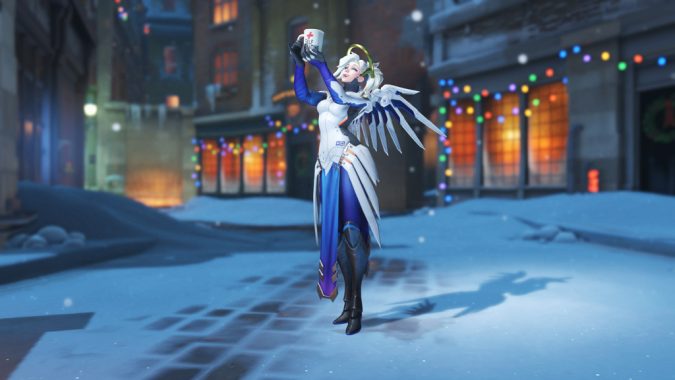 The Winter Wonderland event is still ongoing in Overwatch, but astute players may have noticed something missing. The event is full of new skins, voice files, victory poses, and other items to collect. The victory poses feature a select few heroes making a toast in appropriately festive celebration. But Sombra and Bastion didn't appear to have these new victory poses available, despite their appearance in marketing material.
Needless to say, there was some player confusion about the absence of the new victory poses. Overwatch Community Manager Josh Engen hit the forums to clarify the issue for players. It turns out Blizzard didn't intend those two victory poses for this year's event at all. But the confusion has led to a happy resolution for all Overwatch players — everyone will be getting the victory poses. There's no need to log in or participate in the Winter Wonderland event if you don't want to. You'll find them in your collection automatically.
At the moment, both Sombra and Bastion's poses are already on the PTR if players want to look them over. The victory poses will hit the live game in January, after Winter Wonderland is over. No Loot Box required! It's a nice little additional present from the Overwatch team.
And if you're still trying to collect those elusive winter items, get a move on — Winter Wonderland comes to an end January 1.
We recently created a couple of victory poses for Bastion and Sombra that weren't originally intended for use in our Winter Wonderland 2017 event. However, they ended up being used in a number of marketing assets, which was understandably confusing for some of our players who saw the poses but were unable to collect them.
So, as an extra-special treat, we're going to grant both of these poses to all of our players, regardless of whether or not they logged into Overwatch during the Winter Wonderland event and earned or purchased Winter Loot Boxes. Once they've been added to the game, anyone who logs in will receive Sombra and Bastion's "Toast" victory poses.
The poses have already been added to the PTR and will be headed to the standard version of the game in January, after the Winter Wonderland event has concluded.
To learn more about the Winter Wonderland event, click here. In the meantime, put on an ugly sweater, grab a mug of hot cocoa, and hunt down a Yeti with your fellow Meis (or fight back as the mythical beast himself!).