Overwatch's Winter Wonderland now live!
Click here for more photos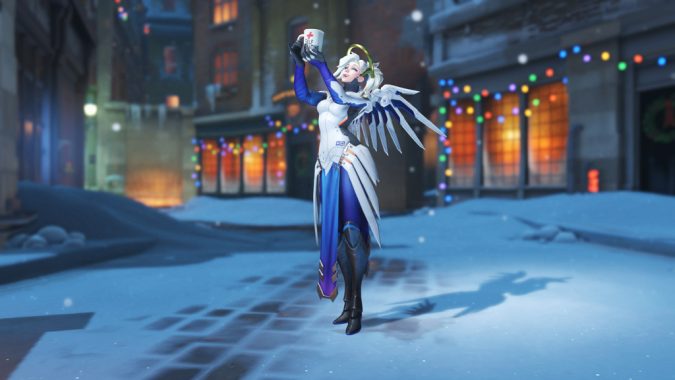 We saw Heroes of the Storm players get their holiday goodies earlier today, and now Overwatch players are getting their turn. Winter Wonderland comes with the traditional Christmas presents usually expected in a holiday event, and you don't even have to suffer through another dozen days of lame advent calendar chocolates first. The holidays are happening available now in Overwatch!
Every hero got at least a voice line. The three newest entries to the Nexus — Orisa, Doomfist, and Moira — both got two voice lines. Orisa also got the cutest dang emote I've ever seen, but then I'm a sucker for puppies. Several heroes got their own take on the event's signature "cheers" victory pose from last year. I identify strongly with Mercy, who has a mug printed with text saying "Self Medicating." Of course, the best gift of all are the gorgeous skins, and we have a gallery of them if you're interested.
Snowy owls are featured heavily in this year's new skins, and the new icy Sombra skin may be finding its way to my stocking, too. I grew up in the blasted tundra of Upstate NY so for me the holidays are all about blistering cold, but my favorite new skin may be Junkrat's. It seems a bit out of place alongside all the sock hats and frosty effects, but it's dead on for the Australians I've seen react to it. It's summer in the southern hemisphere, after all!
Also, just in case you were waiting for the chance to get Widowmaker to punch you in the face, all the 2016 Winter Wonderland goodies are available again. They're up for a reduced price too.
The new Mei's Yeti Hunt game mode, pitting five Meis against one big "Yeti" — Winston — is also live to play in the Arcade.