Sonya, Sylvanas nerfed in latest Heroes of the Storm patch notes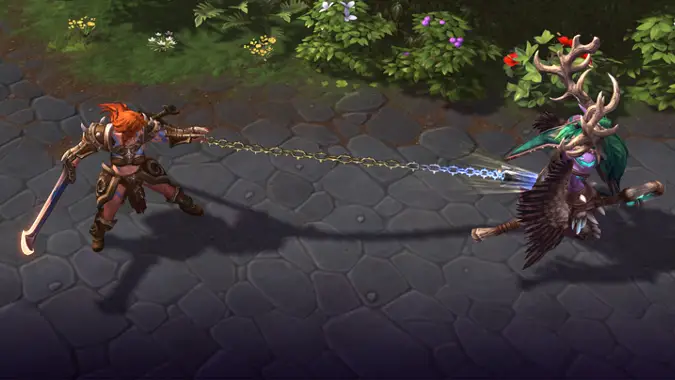 The latest Heroes of the Storm balance patch has arrived bearing nerfs to Sonya, Sgt. Hammer, Hanzo, and Sylvanas. The community expected nerfs to both Sonya and Hanzo, considering how oppressive both heroes have become. Sonya's Poisoned Spear enabled her to lay down extreme burst damage while her Nerves of Steel talent made it too easy for her to survive punishment in turn. Both have been scaled back, with Poisoned Spear now doing less damage and Nerves of Steel protecting her from less damage. Hanzo's damage has been slightly scaled back across the board and his Sharpened Arrowheads now only removes a maximum of 20 armor rather than 25.
The Sylvanas nerfs are a little more surprising. After the changes to laning and structures in the 2018 Gameplay Update, Sylvanas's passive ability to disable forts and towers has been perceived as more powerful than ever — empowering objectives and lane pushes to a degree beyond what she could previously achieve. In exchange for that power, Sylvanas's ability to participate in a team fight was limited, with low damage and little to no ability to decide where she wanted her damage to go. Rather than nerfing the strength of her passive, the developers have instead nerfed her damage even further. She now has less health, lower health regen, and a longer cooldown on Shadow Dagger, her primary source of damage.
Rather than changing Sylvanas's trait — which could necessitate a full redesign of the character — the developers seem to be going all-in on it. If you play Sylvanas, you better hope your team can make the most of her disabled structures, because she'll soon bring little else to the table.
Assassin
Hanzo
Stats
Basic Attack Damage reduced from 176 to 173
Abilities
Storm Bow (Q)

Damage reduced from 297 to 291

Scatter Arrow (W)

Ricochet damage reduced from 90 to 88
Talents
Level 7

Sharpened Arrowheads (W)

Decreased Armor reduction from 5 (to a maximum of 25) to 4 (to a maximum of 20)
Valeera
Abilities
Ambush (Q)

Armor reduction duration increased from 4 to 5 seconds
Talents
Level 1

Vigor (Passive)

Passive energy regeneration increased from 2 to 2.5 per second.

Combat Readiness (Passive)

Physical Armor increased from 60 to 75

Level 4

Relentless Strikes (Q)

Sinister Strike energy reduction increased from 10 to 15

Level 7

Mutilate (Q)

Damage bonus increased from 100% to 125%

Fatal Finesse (W)

Damage gained per enemy Hero hit increased from 3 (to a maximum of 60) to 4 (to a maximum of 80)

Level 13

Blind (W)

Bonus blind duration increased from 2 to 2.5 seconds

Level 20

Adrenaline Rush (R)

Energy regeneration increased from 30 to 40 per second
Specialist
Sgt. Hammer
Talents
Level 4

Regenerative Bio-Steel (D)

Healing reduced from 15% to 10% of Sgt. Hammer's Basic Attack damage dealt in Siege Mode.

Level 7

Graduating Range (D)

Range reduced from 1.1 to 1 per stack, up to a maximum of 3
Sylvanas
Stats
Base Maximum Health reduced from 1456 to 1425
Health Regen reduced from 3.04 to 2.97
Abilities
Shadow Dagger (W)

Cooldown increased from 11 to 12 seconds
Talents
Level 4

Lost Soul (W)

Cooldown reduction per Hero hit reduced from 1.25 to 1 second
Support
Brightwing
Stats
Base Maximum Health increased from 1395 to 1450
Health Regen increased from 2.91 to 3.02
Tyrande
Stats
Basic Attack Damage increased from 80 to 82
Warrior
Blaze
Abilities
Fortified Bunker (R)

Health increased from 1305 to 1435

Combustion (R)

There is now a .5 second window after casting where Combustion cannot be canceled (this is to prevent accidental canceling from rapid key presses)
Talents
Level 4

Feeding the Flame (Q)

Cooldown reduction increased from 1.5 to 2 seconds

Level 7

Incinerator Gauntlets (Passive)

Bonus damage increased from 50% to 70%

Crossfire (Q)

Damage increased from 132 to 139

Grill and Kill (W)

Damage bonus decreased from 25% to 20%

Level 13

Suppressive Fire (Q)

Spell Power reduction increased from 15% to 20% per stack

Nanomachine Coating (W)

Attack Speed slow now only applies to Oil Spills that are on fire

Level 16

Juggernaut Plating (Active)

Shield bonus increased from 100% to 125% of damage reduced
Sonya
Stats
Basic Attack damage reduced from 88 to 84
Talents
Level 7

Poisoned Spear (Q)

Damage reduced from 125% to 100% of Ancient Spear's damage.

Level 16

Nerves of Steel (Active)

Duration reduced from 5 to 3 seconds
Shield amount reduced from 30% to 25% of Maximum Health
Cooldown reduced from 70 to 60 seconds
Bug Fixes
General
Fixed a number of inaccuracies and grammatical issues in tooltips across the game.
Korean Client: Updated the loading screen to the Korean localized version.
Heroes, Abilities, and Talents
Blaze: Fixed an issue that allowed Heroes to bypass the movement speed reduction from ignited Oil Spills if Blaze chose the Adhesive Petroleum talent.
Blaze: Fixed an issue causing Stimpack and Pyromania voiceover lines to be heard globally.
Tyrael: Fixed an issue preventing Tyrael from gaining stacks of Ardent Restoration from the damage dealt by the Burning Halo talent.
Some of the buffs we're seeing in this patch are reversals of the nerfs doled out across all support characters back in November. Tyrande's buff is merely giving back the damage she lost in her previous nerf, and Brightwing's health is being scaled up closer to what it used to be. Valeera's buffs, meanwhile, are targeting a generally underperforming character. After the stealth rework, Valeera was meant to specialize in locking down — and shutting down — her slipperiest opponents. Unfortunately, Valeera herself doesn't have the power to manage it, and has more often than not been the one easily shut down. Whether or not these buffs will help remains to be seen.