Maiev Shadowsong is coming to Heroes of the Storm
Updated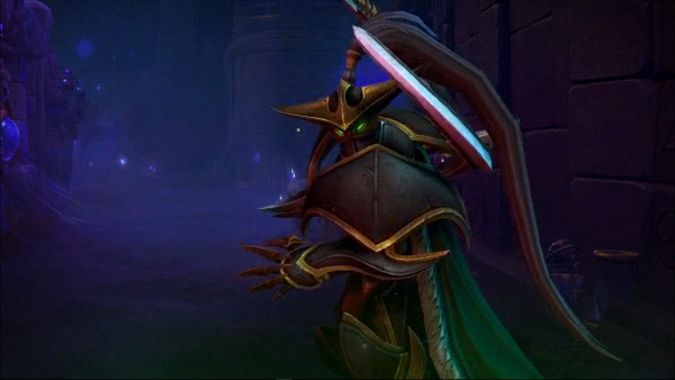 Blaze has been around the Nexus for a few weeks now, and as is tradition, teasers for the next hero have begun to trickle in from Blizzard. These teasers started yesterday with an inoccuous tweet that sent the Blizzard Watch crew into different camps of thought. "That's totally the crystal from Vault of the Wardens," thought Alex and I. "It looks like a leaf to me," spake Liz and Dan.
And the rest of the internet? Well the rest of the internet went wild with speculation that ranged from Mal'Ganis — who was up next according to an alleged leak — all the way to Deathwing (because memes). Of course, it didn't help clarify anything when a Blizzard employee responded to the first tweet's Reddit thread with, "In brightest day, in blackest night, No evil shall escape my sight" — part of the Green Lantern's oath.
Today, however, we have the below tweet. It's an extension of the first, and a very faint outline of a figure is starting to form:
— Heroes of the Storm (@BlizzHeroes) January 24, 2018
Now, with this most recent teaser, it seems more and more likely that we're getting a Warden as out next hero. Not only is the view nearly identical to the one from inside the green crystal prison we see at the beginning of Legion's Demon Hunter experience, the outline also fits with a Warden. If you can picture a Warden crouched in the combat pose, the white portion of the outline begins to take shape as the frills on a Warden's cloak.
It doesn't quite match up, but you can get a general idea of how a Warden might fit into the teaser by looking at a WoW Warden model in action: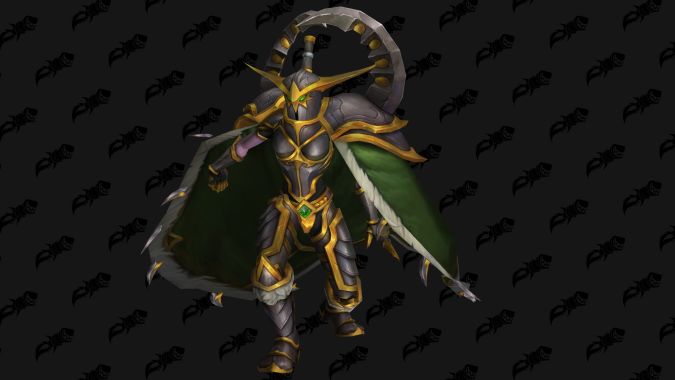 Courtesy of Wowhead model viewer.
So if we are getting a Warden, will it be Maiev, despite her Warcraft 3 kit having been given to Zeratul? Will it be Cordana, with the teaser as the moment she and Gul'dan stand before an imprisoned Illidan? Or will it be someone else entirely?
We're still a bit torn over here at Blizzard Watch, but it's looking more and more like Maiev will be coming to Heroes of the Storm. Granted, I'm perfectly happy with a fake-out if it means we get Mal'Ganis. Whatever the case, I'm sure we'll know soon enough. What's your guess on who's being hinted at?
UPDATE: We have a third tweet that shows Maiev to be the one outside the crystal.
"The scum that pollutes this realm will be purged!" 👊 pic.twitter.com/sEDpySiM4a

— Heroes of the Storm (@BlizzHeroes) January 25, 2018
There's still no information on her ability kit or if we'll be getting two heroes revealed at once — i.e., Maiev plus whoever is in the prism — but for now, we can speculate on how Maiev'll be different from Zeratul.