Maiev has already been nerfed in latest Heroes of the Storm patch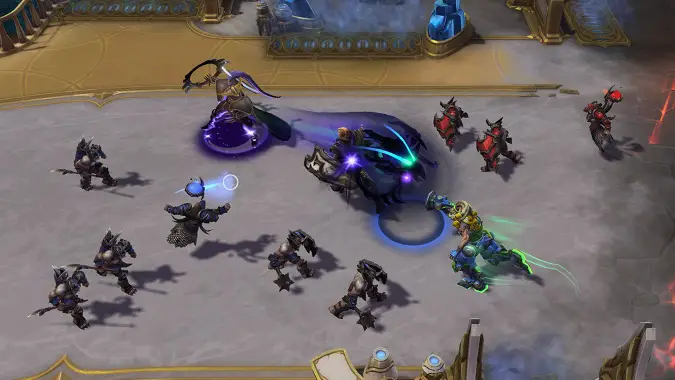 Maiev entered the Nexus this week to a dominant start, quickly vaulting to win rates unseen in Heroes of the Storm since Rehgar could dive into a 1-versus-5 scenario with a self-cast Ancestral Healing and come out on top. In recent days, Maiev's win rate has crept up near 70% — and has become the unquestionable first-ban in drafted play. Blizzard won't let that last into the weekend, however, because her first round of nerfs have already arrived.
Assassin
Maiev
Stats
Basic Attack Damage reduced from 162 to 150
Base Maximum Health increased from 2150 to 2236
Health Regeneration increased from 4.48 to 4.66
Abilities
Fan of Knives (Q)

Damage decreased from 180 to 170

Vault of the Wardens (D)

No longer grants passive Armor
Talents
Level 1

Naisha's Memento (Active)

Bounces no longer deal bonus damage

Level 16

Armored Assault (Passive)

Physical Damage bonus decreased from 35 to 25%
Now activates if Maiev has any amount of bonus Armor
Developer Comment: Maiev has arrived in the Nexus and seems to be obliterating her foes (as she should) but is slightly deadlier than we intended. The Warden's survivability is currently too high, which allows her to get tons of resets on Fan of Knives while ignoring enemy threats. To address this, we're removing her armor gain from Vault of the Wardens, while slightly lowering her damage output so that she has to stick around in the fight a little longer to take down her opponents. After these changes, we'll continue to keep an eye on Maiev to be sure that she has enough survivability to perform her melee Assassin role, without it feeling like her enemies have little-to-no options for counterplay.
It's my personal suspicion that Maiev is the kind of hero who will continue to stomp her way through uncoordinated play but would get shut down hard by pro players. Maiev is built to punish players who clump up, and something as simple as a Nova standing in melee range with the tank when she shouldn't be can enable Maiev in a big way. That extra target gives Maiev exactly what she needs to repeatedly reset her Q, and some extra damage from Naisha's Memento. These nerfs will bring Maiev's damage down, but she'll still be able to capitalize on those uncoordinated mistakes.
Pro players, or high-end players in general, would most likely learn to work around Maiev: keeping ranged at range, shutting her down right away with crowd control, and blowing her up before she can accomplish much. Blinds from heroes like Johanna have also proven incredibly effective when dealing with Maiev.
Losing her passive 10 Armor has an interesting side that necessitated the change to Armored Assault. Previously, with her baseline 10 Armor, she could trigger Armored Assault on her own with any other Armor-granting talent. With losing the baseline 10, the talent was dead in the water without also being changed. Now, rather than having interplay with her other talents or teammates, she simply gains the bonus from any source of armor whatsoever. How often the talent is active probably won't change, only losing a little flavor and strategic forethought.
Overall, these changes don't seem significant enough to put Maiev in the dumpster — she still seems like an incredibly powerful hero — but losing a little of her survivability (and the burst from Naisha's Memento) will probably make it riskier for her to dive into the enemy team.