WoW
Feb 20, 2018 3:00 pm CT
These Artifact and Legendary abilities are baseline in the Battle for Azeroth alpha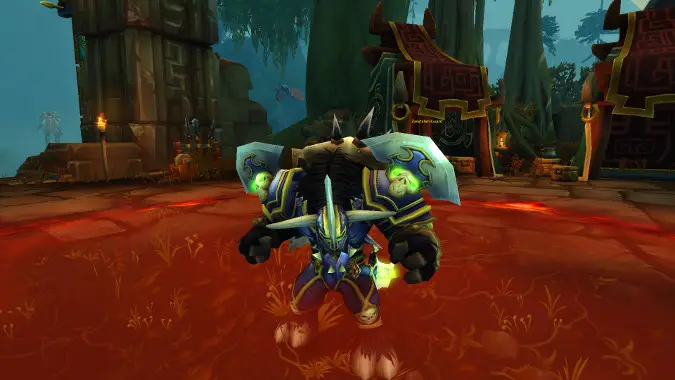 If you've been paying attention to the Battle for Azeroth alpha, you may have noticed that certain abilities that exist in Legion as Artifact Traits or effects on Legendary items are being baked into classes or talent trees. Wowhead has a list of the current changes, and it's interesting to see what made the cut and what didn't. Quite a few that I expected to make the cut haven't yet.
Of course, it's alpha, and things may eventually change. But for now, let's look at what we have.
Demon Hunter
Druid
Hunter
Beast Mastery Hunters see the legendary Qa'pla, Eredun War Order lend not just it's suspiciously Klingon-sounding name but its ability to reset Kill Command to Cobra Shot. It's not a one for one transfer, but the functionality is there
Marksmanship Hunters get Thas'dorah's Healing Shell. But instead of applying it to Aspect of the Turtle, it's now going to be part of Natural Mending.
Mage
Arcane Mages who miss the Artifact trait Rule of Threes can take the talent Mana Adept, which will at least give them a shot at additional Arcane Missiles.
If you would rather be the kind of Mage who yells "I am the god of fire and I bring you… FIRE" at your enemies, you may be happy to know that Phoenix Flames, the Artifact Trait from Felo'melorn, is now a talent named Phoenix Flames. Seems like the closest to a 1 to 1 jump for any of these traits I've seen so far.
Monk
Paladin
Retribution Paladins get Wake of Ashes as a talent. It stands with Phoenix Flames and Tornado Kicks for faithful translation of an Artifact ability or trait into a talent. It's also one I expect a lot of Rets to take. I know mine probably will.
Priest
Rogue
Shaman
Warlock
Warrior
If you really love the Arms Artifatct ability Warbreaker, you can keep your AoE Colossus Smash with the new Arms talent Warbreaker, although unlike the Artifact it replaces CS entirely. It also doesn't deal Shadow damage. And Sudden Death is back as a talent, after being the legendary Ayala's Stone Heart, which was itself the old Sudden Death talent back in legendary form after being a completely redesigned talent like six times already.
Like I said, I'm surprised certain abilities, traits and legendaries didn't make the cut, like Odyn's Fury or Tyr's Deliverance. But it's still alpha so who knows, maybe a second wave of added traits/abilities will come out before too long. Honestly I'm a little sad at how these are being implemented. I'm cool with Artifact traits becoming talents for the spec they were involved with. But seeing legendaries that worked with all three specs becoming spec exclusive talents is a little disheartening to me. Still, at least some abilities made the grade and we'll get to see them moving forward into Battle for Azeroth.