Let's predict Hearthstone's Year of the Raven expansions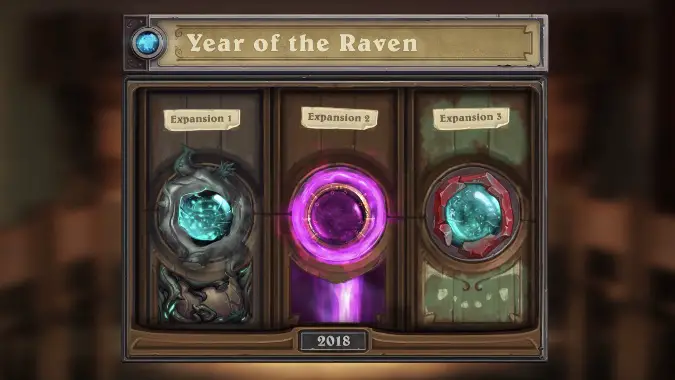 This week, Hearthstone announced all of the new changes coming to the game with the upcoming Year of the Raven. Most importantly, however, the Year of the Raven news released the teaser for this year's expansions. If you're unfamiliar, Year of the Mammoth's preview included this graphic: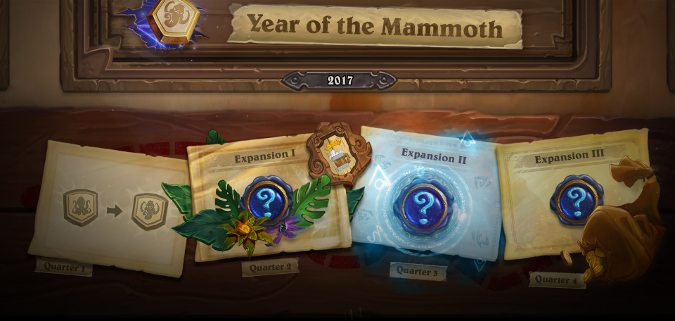 As it turned out, the images associated with each expansion were genuine previews of their content. Expansion I was Journey to Un'goro, Expansion II was Knights of the Frozen Throne, and Expansion III was Kobolds and Catacombs. Now, Year of the Raven has released a similar graphic, which you can see at the top of this post. We don't yet know what any of these expansions are, but we sure can speculate.
To me, the first seems druidic in nature. Not only does the art have a woody, thorny aesthetic, but Lunara is being added as a new Druid hero in Hearthstone. I have to assume they're connected in some way. I've seen suggestions elsewhere that the expansion might be themed around the Emerald Nightmare, and while it's probably close, I'm not sure it's entirely accurate, either. I think the colors evoke more of a spooky, haunted woods. Related to the Emerald Dream? Possibly. Specifically the Emerald Nightmare? I don't think so.
The second expansion teaser immediately screams Netherstorm to me. The arcane ribbons at the bottom look identical to the effects in-game in the Netherstorm, and in this preview, arcane energy is contained within what appears to be a glass tube — much like the manaforge pipelines in Netherstorm. That doesn't necessarily mean the focus of the expansion will be Netherstorm itself, but maybe on the Ethereals or general space-faring arcane stuff.
The third one is more of a mystery to me; I can't quite identify any of its elements unless we go purely by color. The red stuff reminds me of coral — and if it's coral, we could take a leap and say the entire Year of the Raven is the year of Burning Crusade. The first one could be Terokkar Forest, the second one Netherstorm, and the third one Zangarmarsh and the naga. The teal coloration in the first one actually fits Terokkar Forest's color palette surprisingly well. It's a long shot, but it's possible.
What do you think these expansions might be? Speculate, friends!