Brigitte receives new skin, ultimate already nerfed on the Overwatch PTR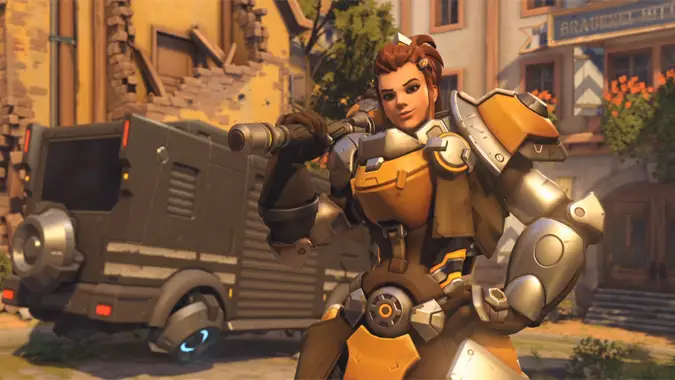 Newest Overwatch hero Brigitte was officially announced late last week, but has already received a tuning pass on the PTR. Most notably, the cost of her Ultimate has been increased by 30%, meaning she'll be casting it less often. However, her passive Inspire effect had its cooldown reduced from 2 seconds to 1.5 seconds — meaning as long as she's in the fray swinging her weapon around, she'll be applying her heal effect to her allies more often.
There have been additional changes made that should now be on the PTR as well. Here is a list of changes:
HERO UPDATES
Brigitte
Shield Bash
Added a small delay before her shield drops after a Shield Bash
Added a vertical speed cap after Shield Bash
Please note that we are still tuning this value
Rocket Flail
Canceling a melee swing renders you unable to melee again until it would have completed had it not been canceled
Rally
Ultimate cost increased by ~30%
Inspire
Decreased cooldown from 2 seconds to 1.5 seconds
USER INTERFACE UPDATES
The Team Information Screen now displays the ultimate charge of your teammates
BUG FIXES
Heroes
Fixed a bug that prevented Doomfist's Rocket Punch from traveling forward if he had been hit by an enemy Doomfist's Rocket Uppercut
Fixed a bug that sometimes prevented players from aiming Doomfist's Rocket Punch when facing an enemy
Fixed an issue that allowed players to jump over Doomfist's Rocket Punch when on an incline
Fixed a bug that caused Doomfist's Seismic Slam to cancel if he wasn't able to get close to his target
Fixed a bug that caused Mercy's health regeneration to occur instantly if she took damage while at full health
Fixed a bug that prevented Moira's Biotic Orb from receiving kill credit if it expired at the same time it killed an enemy
Fixed a bug that prevented Reinhardt's Charge from pinning enemies
The change to Brigitte's Rocket Flail mirrors some of the early balance changes in Overwatch. When the game first released, you could skip the reload animation on weapons by using a melee attack. The melee attack was faster than the reload, allowing players to start shooting again faster than intended. This change seems to be in a similar vein; you can no longer use animation tricks to attack faster than intended — nor can you do it accidentally.
In addition to the mechanical changes, today's PTR update also includes a new legendary skin for Brigitte:
Armoring you up! 🔧 🛡️

Brigitte's ENGINEER skin will be available soon on the PTR. pic.twitter.com/OtDun7DKNo

— Overwatch (@PlayOverwatch) March 5, 2018
While Brigitte's base skin shows off her current role as a Crusader and Reinhardt's squire, her Engineer skin is a throwback to her engineering background — and pulls a lot of influence from her father, Torbjorn. The color scheme, the detailing, and the gear motif are all a great nod to her father. Both of Brigitte's appearances are great so far; I'm excited to see what else they come up with down the road.