Celebrate 20 years of StarCraft with rewards in your favorite game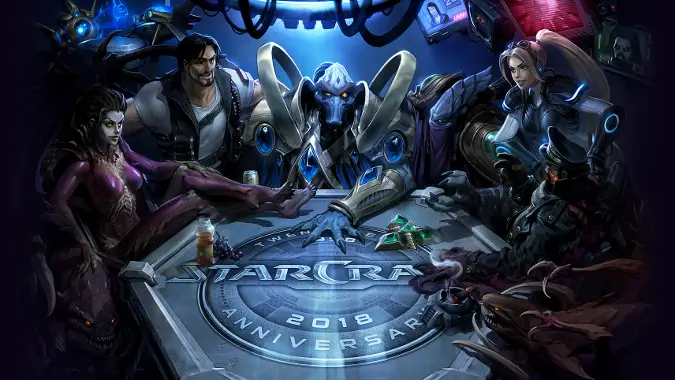 StarCraft first released March 31, 1998 and Blizzard will be celebrating the game's 20th anniversary at this end of this month. On March 30, StarCraft will be holding a special livestreamed celebration with a video featurette to follow on March 31.  They've already released a video timeline of StarCraft history:
However, the celebrations begin well before March 30. As of tomorrow, March 6, players of both StarCraft Remastered and StarCraft 2 will receive in-game cosmetic rewards such as UI skins and portraits. All of Blizzard's other games are getting in on the fun, too.
Diablo 3 Starting March 6, log in to receive Dominion's Revenge, a Battlecruiser-themed Pet.
Overwatch Log in between March 6 and April 3 to receive the Sarah Kerrigan Ghost skin for Widowmaker.
Heroes of the Storm Log in between March 27 and April 7 to receive a 20th Anniversary Portrait for Protoss, Terran, and Zerg.
Hearthstone Between March 21 and March 25, play a StarCraft-inspired Tavern Brawl to receive three Kobolds & Catacombs packs
World of Warcraft Between March 31 and April 6, /salute one of the Zergling, Grunty, Mini Thor, Baneling, or Zeradar companion pets to receive the "Salute to StarCraft" Feat of Strength.
Looking at these rewards, I can't help but feel World of Warcraft is phoning it in a little — and potentially making their non-reward too difficult to acquire. Hopefully, kind people with the appropriate companion pets will camp out in Dalaran to help their fellow players. Otherwise, it relies on finding someone who not only has these relatively rare Collector's Edition pets, but happens to be using those pets specifically out of the (probably) hundreds they own. And the reward is a simple achievement, opposed to other games giving rewards someone might actually use.
That said, I'm actually excited about this celebration overall, and really looking forward to the upcoming video feature. Though I've played video games my entire life, StarCraft was the first game I truly fell in love with — the first game I spent hour after hour after hour playing, the first game that pulled me into the world and story beyond the gameplay. StarCraft made me love Blizzard games before I even knew what Blizzard was, and it's likely the reason I'm here — right now — writing these very words.
Head over to the official celebration landing page not only for more details, but for a preview of all of the pretty cosmetics coming our way.