Deckard Cain is the next Heroes of the Storm hero to arrive in the Nexus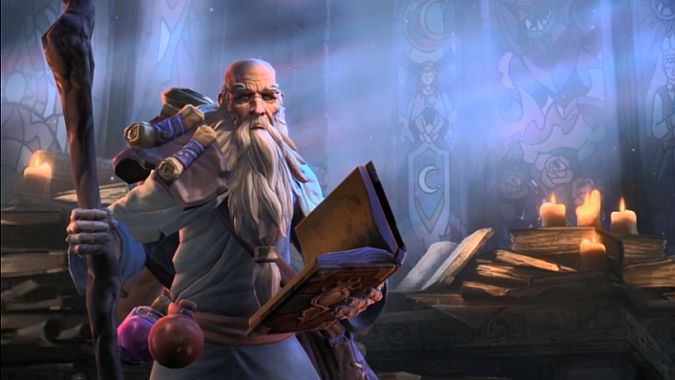 Today during the Heroes of the Storm panel at PAX East, we were treated to the reveal of the next hero coming to the Nexus. Joining us very soon is none other than Deckard Cain himself.
Not too surprisingly, Deckard will be a Support hero. What makes him stand out from other Support heroes is that he's intended to be a bit of a "tactical healer" rather than the kind of healer who stands right up in the action the entire time. What that means is his primary healing ability (below) is one which he can place on the map and let players pick up as needed.
The rest of his kit is a mixture various crowd-control/utility abilities. But the big draws for me — and likely many others — are his heroic abilities… because they're absolutely hilarious. Check 'em out:
Healing Potion (Q) — Throw a Healing Potion on the ground that heals the first allied hero that comes in contact with it for 230.
Horadric Cube (W) — Throw the Horadric Cube, dealing 80 damage to all enemies in the area and Slowing them by 40% for 1.75 seconds.
Scroll of Sealing (E) — Unfurl an enchanted scroll, forming a triangle that deals 150 damage to enemies inside and Roots them for 1.5 seconds.
Stay Awhile and Listen (R) — After 1 second, channel for 3 seconds, putting enemy heroes in front of Deckard to Sleep while channeling, and for 2 seconds after. Enemies can only be put to Sleep once per cast, and Sleep's effects end instantly if they take damage.
Lorenado (R) — [Vector Targeting] Create a swirling lorenado that travels in the targeted direction, continually knocking away enemies that come into contact with it.
You can see all of these abilities in action in his Hero Spotlight below, as well as a discussion of how his talents will change his gameplay:
Be sure to check out Deckard's hero page on the official HotS site, which includes a badass "Wastewalker" skin for him. According to the PAX East panel, Deckard will be arriving on the PTR "in a couple weeks."