Heroes of the Storm addresses several community concerns, will hold AMA Friday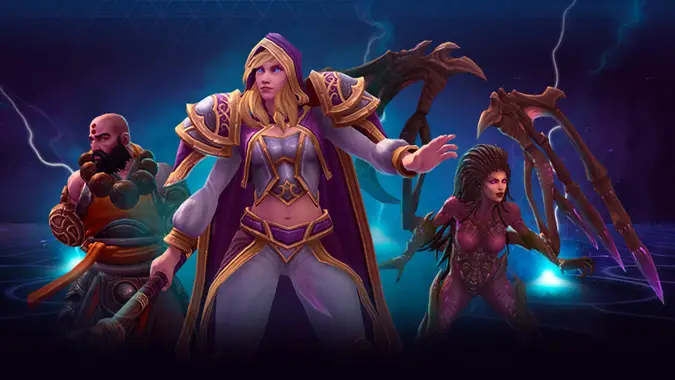 Blizzard posted a very lengthy Heroes of the Storm blog today, with topics ranging from matchmaking all the way to toxicity. The blog post in its entirety is worth a read for any who play Heroes, regardless of skill level. But the most important takeaway, in my opinion, is that Blizzard realizes communication with the players has been sub-par as of late and plans to change that.
Below are snippets of the post to give you an idea of Blizzard's big-picture ideas, but again, the post is worth reading in its entirety. Additionally, if you have any questions about any of this — or the game in general — there will be an AMA on Reddit tomorrow (Friday).
The post further delves into matters of queue time, MMR, rank decay, and performance-based matchmaking. In terms of queue times, changes will be made such that queue times may be higher (especially at higher ranks), but overall match quality should improve. In a similar vein, players who have either not played in a while or only play very few games per Season will see their MMR decay, to alleviate any skill differences caused by the break. And finally, performance-based matchmaking is going to come back in the near future with some adjustments to hopefully make it both clearer and more effective.
The biggest change in terms of Ranked play is the change to placement matches. If you play enough in a given Season, you will need to complete as few as one game during the next Season. Additionally, changes are being made to how high new and returning players can place after their first round of placement matches. However, changes to the re-seeding system are being made to compensate.
Finally, in a change comparable to the updated placement matches, any mode with a drafting system will now have a third ban. Unfortunately, hero swapping is still being looked into with no concrete plans to discuss yet, and there's no word in the blog on duo-queuing in Hero League.
As far as balance is concerned, most of this section boils down to Blizzard acknowledging concerns without a specific approach to the future of new hero balance. Unfortunately, banning new heroes from Ranked play for the first couple weeks of that hero's release is likely off the table. The value of data from Ranked play is just too high, and keeping new heroes in the full spectrum of game modes allows balance to happen more accurately.
In a move that feels similar to something the Overwatch team has been doing, the Heroes team plans to take toxic behavior even more seriously. As an added bonus, the development team is working on a loss-forgiveness feature to alleviate the negative impact AFK/non-participating/intentionally dying players can have on their team. Similarly, they're also working on a way to better communicate the effect reporting someone has — if you report a person, it feels nice to know your report was heard and addressed, and Blizzard knows that.
And finally, Blizzard is planning to do an AMA tomorrow to discuss all of these concerns and updates. While one day is a bit short notice, the AMA is going to be two hours long and will involve several members of the development team. Regardless of if you can join the AMA or not, we're still likely to get plenty of good info out of it.
Again, the full blog post is about three times longer than the sections here and goes far more in-depth, so be sure to check it out when you can. In the meantime, I'd love to hear how you all feel about these changes and the acknowledgment of communication issues. Heroes is fun but by no means perfect; however, these sorts of posts do give me hope for the future of the game.