Hearthstone decks to try out in the Witchwood expansion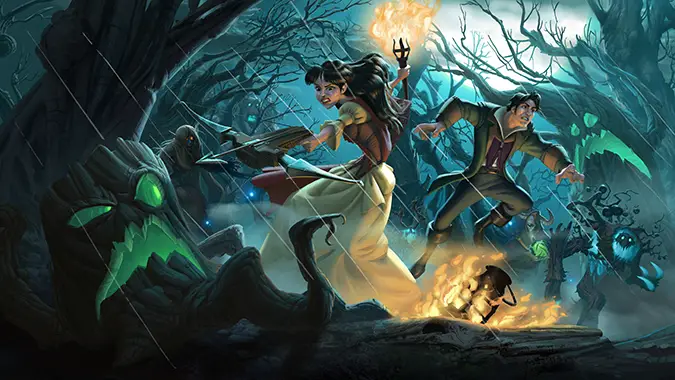 A new Hearthstone season is upon us with the release of The Witchwood. We've looked at the individual cards from the set, but now let's put those cards to use with some exciting new and updated deck options. I've looked over the decks built by the Hearthstone community and highlighted some of my favorites.
Please note: These are unrefined and experimental decks. Your win rates and mileage with them will vary. The meta will take a couple of weeks to identify the true power decks. Be cautious in these early days, and don't waste your precious dust to craft cards that may turn out to be useless.
You don't need to have every card in the deck list to make it work. As long as you have the core, defining cards, you can find good substitutes for most of the others (and some deck lists helpfully suggest substitutions). At higher ranks (anything above 15), you're going to encounter many incomplete decks right after release, and your MMR in Casual should match you with people who have similar collections.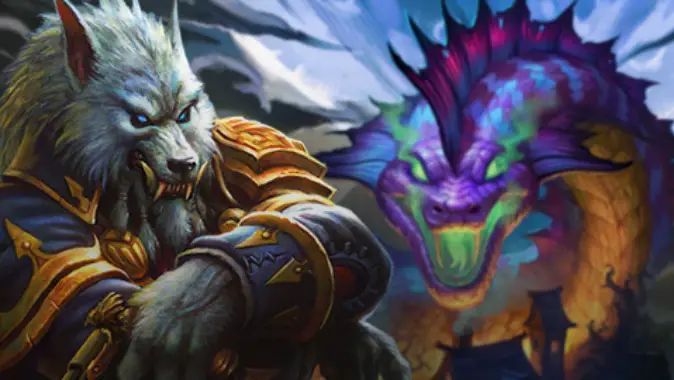 Even and odd decks
Even Dinomancy Hunter (deck link here)
Odd Face Hunter (deck link here)
You're a Hunter. Face is the place. Put your opponent on a clock with an upgraded hero power doing three damage per turn.
Odd Quest Warrior (deck link here)
Fire Plume's Heart was one of the better quests released, but the deck always had a weakness to Jade Druid. With Jades retired to Wild, perhaps Quest Warrior can make some noise.
Here, there be dragons (or dragon decks)
Dragon decks lost many good cards in rotation, but they aren't gone by any stretch.
Lady in White Quest Dragon Priest (deck link here)
Dragon Priest keeps Dustbreaker's powerful AOE. If you thought Ysera was a dream as a 4/12, she'll be a nightmare as a 12/12. It will all depend on if Lady Luck smiles on you or leaves The Lady in White at the bottom of your deck.
This midrange deck has solid removal and once it starts to build a board watch out for the Scalebanes.

Rush decks
Rush Warrior (deck link here)
This is more a tempo deck which looks to use Rush minions as removal and tries to get the most out of Darius Crowley.
This deck harkens back to the Control Warrior of old. It concentrates on removal, including a few Rush minions, and using taunts to slow down aggro. Once it gets to the late game, it can overrun the board with big minions.
(Shudder)wok and roll
Shudderwok is going to be a popular card to test out in the early days of The Witchwood. This deck looks to overwhelm the opponent with multiple Shudderowk plays and powerful dragons.
This is an intersting take on Shudderwok. It takes some set up but ends up casting Lifedrinker over and over until the opponent is dead. Drink up me hearties, yo ho!

The rest of the decks
Hand Druid (deck link here)
The developers added several cards for a Druid deck which likes to keep big hands. I think this one might be a little ahead of its time and will get better as we continue through the Year of the Raven.
Elemental Mage (deck link here)
Your deck looks interesting, I'll play that. All the fun of pre-nerf Yogg-Saron with more control. In addition, there's nothing quite like beating your opponent with his own win condition cards.
Could the creepiest thing in all of Witchwood be the long-lost son of Mysterious Challenger? Secrets are as powerful now without Avenge, but the power of the old Secret Paladin is well remembered.
Divine Shield Paladin (deck link here)
This deck has more bubbles than a New Year's Eve party. Play The Glass Knight and hope for a super buffed Bolvar, Fireblood. As interesting as it sounds, I doubt it will work.
We all have our little pet cards that we're sure are going to be great one day, but keep falling short. Hadronox is that card for me. Still the dream of playing him nine times in one game would be awesome to pull off.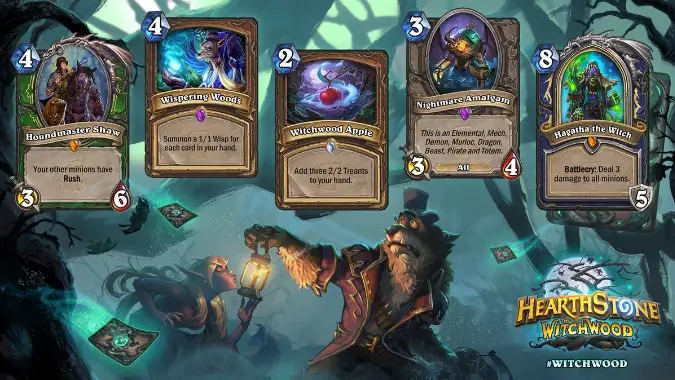 Tweaking current decks
The same big spells Spiteful Priest had from Kobolds and Catacombs, but this deck adds the Lady in White and Prince Keleseth as back-up plans.
If you're looking to build a deck around a specific card or Legendary you've opened, 
Heathpwn's deck finder
 tool can help. You put in the card you want to build the deck around in the "Contains" field, then hit Filter. Heathpwn will return a list of user-made decks with that card in them. Look over the decks with the most upvotes and comments, then try one out.
What decks are you looking to test out in the early days of the The Witchwood?