WoW
May 4, 2018 4:00 pm CT
We don't understand anything about this adorable Murloc song, but we love it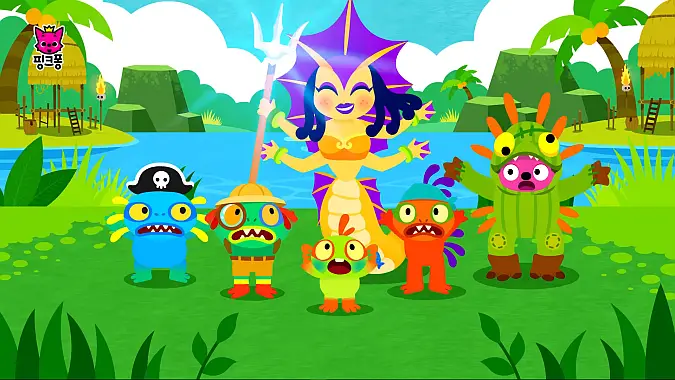 Some things on the internet need no explanation to be wonderful. Simply existing and being seen is enough to leave one enamored. This is especially true of the video below, released today on the Blizzard Korea YouTube channel. The video was brought to my attention thanks to a Reddit thread that is equally confused as to the purpose behind the video.
But again, the video needs no purpose. It's a cartoon sing-a-long full of adorable Murlocs and a terrifying-but-still-kinda-cute Naga. If you're in need of a Friday smile, this is the video for you. Check it out below:
Wasn't that wonderful? I sure think so. I mean, maybe I won't 8 hours from now when I'm still humming this tune to myself in the middle of raid night, but oh well. It's too cute to really even be mad about that.
All that said, I did lie a little bit when I said we didn't know anything about this video. The video itself is a collaboration between Blizzard and Pinkfong, a brand known for its children's songs, apps, toys, and other educational goodies that tiny humans need. Quite likely, you might know Pinkfong as the originators of the Baby Shark Dance video and tune.
The Baby Murloc video appears to be a variation on the Baby Shark Dance song, which means the lyrics are probably not too hard to guess at. Given the appearance of Murky, Sir Finley Mrrgglton, "Captain" Cookie, Murki (?), and Pinkfong (the character) in a Murloc costume, I imagine them to be saying their names followed by lots of "do do do do" (or perhaps it's "mrgl grgl grgl grgl" here).
Now, why Blizzard Korea collaborated with Pinkfong to make this? What the video means? If that Naga is going to hurt those adorable, intelligible creatures at the end? That's all up in the air. Personally, I'm a fan of some of the Reddit theories that this is some sort of hint at a Murloc Allied Race or a raid comprised entirely of Murlocs.
Whatever the case, I don't actually care if it has no meaning. It's cute, it's catchy, and it's fun. It never hurts to throw some fun into the mix when everything around you is all faction conflict and death.