Pink Mercy skin has raised nearly $10 million for breast cancer research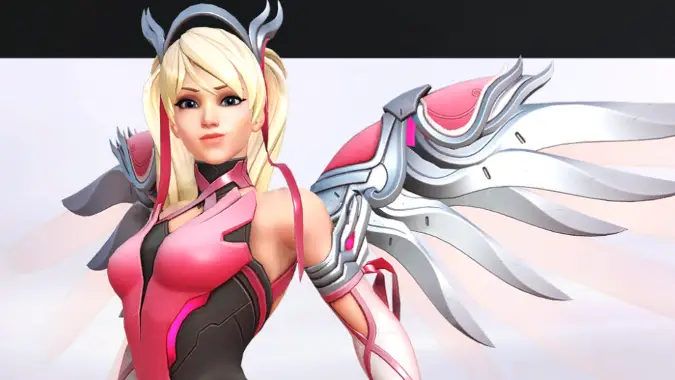 Update: The Pink Mercy skin has already raised nearly $10 million for charity, and you have just a few more days to buy it to help meet Blizzard's lofty $10 million goal. (For the record, that would mean selling 667k skins and t-shirts.) See the original post, with all the details on this new shin, below.
"We still need you!" 🎀

Thanks to the generosity of everyone who's purchased the Pink Mercy skin so far, we're closing in on raising $10M USD to support @BCRFcure.

Help us reach our objective before May 21! https://t.co/fj00Wmunum pic.twitter.com/JLiiu8jT7b

— Overwatch (@PlayOverwatch) May 17, 2018
Blizzard Entertainment is selling a Pink Mercy skin for Overwatch, with all proceeds being donated to the Breast Cancer Research Foundation. The skin carries a price tag of $14.99 and is available right now on all platforms. It'll be available until May 21, 2018.
Pink Mercy is the first skin Overwatch has made available for purchase outright rather than contained within loot boxes. It's also the first Overwatch skin created specifically for a charitable cause. However, it isn't new for Blizzard Entertainment; Blizzard occasionally releases charity pets for World of Warcraft. Mostly recently, World of Warcraft sold Shadow the Fox for $10 with all proceeds going to disaster relief efforts. While Pink Mercy is slightly more expensive, it's also a more visible sign of your contribution. The skin is a symbol of breast cancer awareness in general, including the iconic pink ribbon on the back of her skirt, which you can see in Blizzard's skin preview video.
From May 8 – May 21, Blizzard Entertainment will donate 100% of the proceeds that it receives for your purchase of the Pink Mercy skin to the Breast Cancer Research Foundation, with a guaranteed minimum donation of $250,000 USD. Blizzard Entertainment will disclose the total amount of its donation following the end of the campaign. BCRF's mission is to advance the world's most promising research to eradicate breast cancer. For more information about BCRF, visit www.bcrf.org (English only).
The unique appearance is amazing, but that's not the only perk of the skin. Pink Mercy also comes with a suite of custom sound effects for Mercy's various skills:
BUT WAIT, THERE'S MORE pic.twitter.com/hGq5jkRzfY

— EeveeA 🧡 VTUBER (@EeveeA_) May 8, 2018
In addition to the skin, Pink Mercy-themed t-shirts are currently available for pre-order on the Blizzard store. The t-shirt features gorgeous artwork from community artist Vickisigh and comes in both men's and women's styles, both of which are $30 with an expected delivery of sometime before Q3 2018. For every $30 t-shirt sold between May 8 and May 21, Blizzard will donate $15 to BCRF.
If all of that isn't enough, you'll also be able to earn free Pink Mercy themed sprays. You can pick up the sprays, created by community artist Onemegawatt, through watching upcoming charity streams on Twitch. You'll need to link your Battle.net account to your Twitch account to earn the sprays. Head over to Blizzard's official announcement for the full details — both previews of the sprays, and the relevant, qualifying streams.
The Breast Cancer Research Foundation currently has an A+ rating on CharityWatch, a charity watchdog that investigates how a charity acquires and utilizes its funding. You'd be hard pressed to find a better charity for this particular issue, and we applaud both BCRF and Blizzard Entertainment on this initiative.