Hero human being re-imagines Overwatch characters in other characters' outfits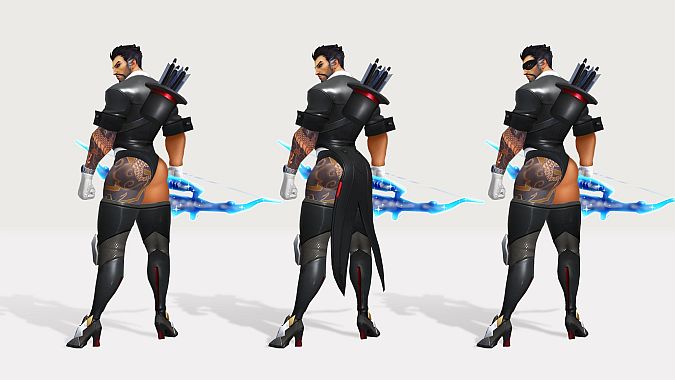 The world probably doesn't deserve Christian Blanco. Christian is the type of person who sees art and wonders if it could be artier. And that's exactly what Christian did when he saw the new Overwatch anniversary skins.
https://twitter.com/Loudwindow/status/1000755984782868480
Yes, Symmetra as a magician is great. But what about Hanzo as Symmetra as a magician? What about the same on the other Shimada brother, Genji? Still not enough? Good, it wasn't for me, either. Blanco went above and beyond the call of duty and also made Symmetra-as-a-magician-style re-imaginings of Doomfist, Sombra, and McCree.
Blanco didn't stop there, though. Scrolling through their Twitter feed, you'll see Widowmaker wearing McCree's Sherlock outfit, a work-in-progress D.Va in the style of Orisa's Forest Spirit skin, and several other crossovers. And while some of them are genuinely silly looking (albeit still very impressively done), others look natural enough to be actual in-game skins. Honestly, I'd be thrilled to have a Forest Spirit D.Va or a Sherlock Ana.
What I appreciate even more is how much thought Blanco puts into these creations every step along the way. With several of these, you can see the decision-making progress at work, wherein Blanco decides on what particular features look best on a given hero. What hair should Sherlock Widowmaker have? How big should her glasses be? Should Hanzo wear a mask? To top it all off, each final product has its own description and ideation on how abilities could be altered to fit the skin's theme.
I sincerely hope these don't stop anytime soon, and I'll be sure to keep an eye on Blanco's feed for more awesome work. In the meantime, be sure to follow Blanco on Twitter and, if you're especially interested, take a look at their ArtStation as well.