Overwatch League coming to Disney XD leads to greatest meme ever
Click here for more photos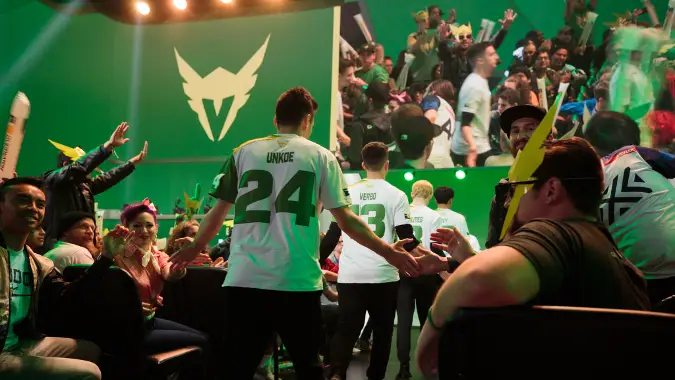 The playoffs are heating up, so the Overwatch League social media teams are in overdrive, creating new content for fans to disseminate to cheer for their favorite teams. Through a series of events, this led to a meme which captured the hearts of the team, so we had to share it. Like many great memes this has a bit of backstory to it that only 90's kids will understand.
Back in the storied yesteryear of the early aughts, the Disney Channel had a series of promos before each show where various stars of the show would wave a magic wand around in order to draw the iconic Mickey Mouse ears. Pretty unremarkable stuff, but ubiquitous enough that the L. A. Valiant made their poor DPS player Agilities mimic the old promos. It was likewise intended to be relatively low-effort throwaway content for social media. Put the kid in a shirt and stand him in front of a green screen for five minutes, edit, and you've got a quick clip shareable for both team-building and nostalgia purposes. It was a fun if awkward way to pay tribute to a landmark move for esports. Good clean fun.
Like I said, the original ad was pretty unremarkable stuff — until relatively recently, when some unknown internet genius overlaid the actual path the wand took when the Disney stars made their promos. Spoiler: they were not actually drawing mouse ears. So the Houston Outlaws went ahead and showed us what Agilities actually drew.
The new Valiant logo is looking great! pic.twitter.com/EAIV971v8H

— Houston Outlaws (@Outlaws) July 12, 2018
Spoiler: he did not actually draw the Valiant helm.
Agilities was a little taken aback apparently, protesting that they told him to draw the Overwatch logo. You'll note that this also does not look even slightly like the Overwatch logo. Taking the joke well, the Valiant changed their Twitter icon.
There's a whole bunch of fans who want the alternative logo on merch too, photoshopping poor Agilities into a jersey featuring his amazing artwork. Like Frankenstein's monster, his creation will not die.
Unrelated to terrible social media decisions that will never die, the Philadelphia Fusion decided they're retiring their former official hashtag #pdomjnate in favor of #unleashed. The playoffs continue tonight as the Fusion faces off against the Boston Uprising starting at 7 p.m. CDT.