Overwatch League season one playoffs start tonight!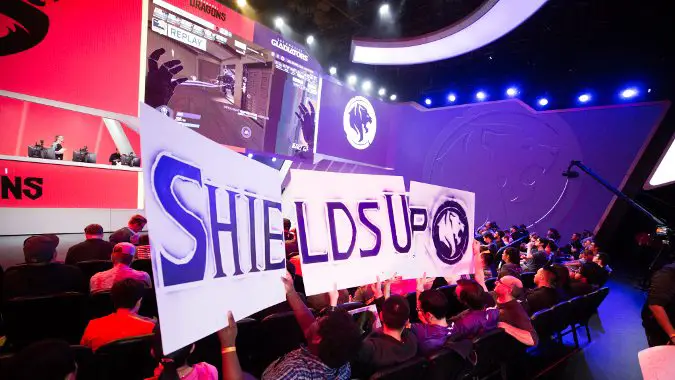 The Overwatch League playoffs start tonight and continue through next week, culminating in the Grand Finals at the Barclay Center in New York before the week is out. Here's what you need to know to watch, including a quick primer on each team in the finals.
First of all, the schedule is a little odd. Games this week and next are on Wednesday, Friday, and Saturday. The matches are best of five games, like the stage playoffs so far. However, unlike the stage playoffs they're also a best of three matches. Each team will face off at least twice across five maps.
Match one tonight sees the Philadelphia Fusion facing off against the Boston Uprising at 7 p.m. CDT, with the London Spitfire and L. A. Gladiators going head-to-head in match two at 9 p.m.
Boston vs Philadelphia is going to be a bit interesting. Boston had a nearly undefeated stage in stage 3, but they faltered hard in the last stage after the meta changed drastically from dive to the patch that added Brigitte. These two teams have an even score against each other thus far, but Philadelphia won the day at their most recent match up. However, the determination of this match may hinge on a single player. If Carpe can carry Philly on his back like always they'll probably win, but if he has a mediocre game, especially in a meta which is comfortable resting on the skill of snipers, Boston may find a window for success.
The second match up faces a similar dilemma. The Gladiators were a solid mid-tier team early on but really lit up as the season progressed, especially since the addition of the most handsome tank in the league, Fissure. Meanwhile, London took the stage 1 championship and have slowly assumed a place at the middle of the pack — since trading Fissure to the Gladiators. The Gladiators have won each time these teams faced off in the regular season. I won't say it's a lock for the Gladiators but with their steady trajectory of improvement, plus taking to the Brigitte meta like ducks to water, London's goose is likely cooked.
These teams all face off tonight, with the the Fusion vs Uprising decided Friday and the Gladiators vs the Spitfire on Saturday. The winner of Fusion/Uprising will face the L. A. Valiant next week, with the Gladiators/Spitfire winner taking on the New York Excelsior. I will admit that I'm a bit disappointed that the Valiant won't get another chance to face off against the Gladiators on their mutual home turf this season — the Battle for L. A. faceoffs were some of the most entertaining to watch throughout season 1. If they do meet again, it'll be in the Grand Finals in New York. Regardless of who's playing, we'll be there.