Overwatch fans have fallen in love with D.Va's Waveracer skin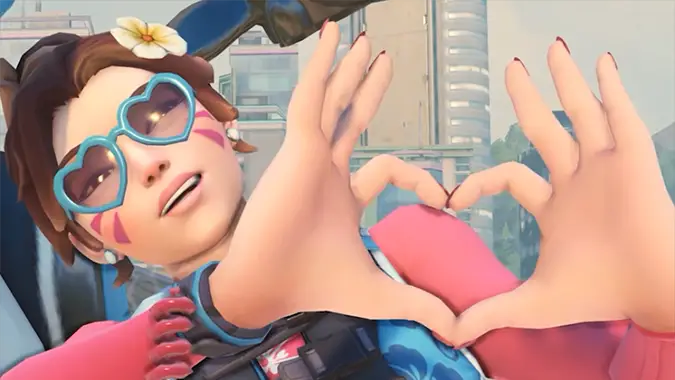 Overwatch's upcoming Summer Games event will give us the gift of Waveracer D.Va. It's the first skin she's gotten in a while that's tied to a proper event and it's extremely cute. It's so cute in fact that tons of people are drawing and cheering for Hana Song's new look.
Make a splash with WAVERACER https://t.co/JW0Aei8tV0 (Legendary)! 🌊

Join us in Busan for Summer Games, kicking off August 9. pic.twitter.com/0IO0BKZMuc

— Overwatch (@PlayOverwatch) August 4, 2018
The skin gives the shooter's tank hero a blue life jacket, pink shorts, heart-shaped sunglasses, and a ponytail. It's a pretty big shift from D.Va's usual pilot suit design, but it's actually really accurate to what Korean people wear at the beach — even the flowers were specifically chosen! The MEKA itself is also designed to look like a jet ski, complete with a spoiler on the back. While there's no water that you can survive in the game, the mech is going to look great zooming around the battlefields.
All I'm saying is that if you're running low on currency to be able to purchase the skin when it comes out later this week, you're going to need to grind out some loot boxes, spend the cash to get some that way, or hope that you're incredibly lucky, because Waveracer D.Va will be a necessary skin to have for the upcoming event.
Legendary Overwatch skins often have unique voice lines. McCree's Lifeguard skin has him announce that it's high tide and not high noon, and Mercy's Witch skin says "My servants never die," instead of "Heroes never die." The unique lines make the skins feel like more than your average legendary, so it's always exciting to see which skins get that treatment and what Blizzard comes up with. People immediately figured out — demanded even — what D.Va should say instead of "Nerf this!"
if dva's ult voice line on waveracer isn't "surf this" i'm suing blizzard

— kieran | moved accs (@armydva) August 4, 2018
Because this always happens with Overwatch highlight intros, people quickly discovered the weird, in-between frames of animation. But don't worry, this didn't curb the excitement one bit. If anything, it empowered it.
https://twitter.com/raubahnaldynn/status/1025649105517899776
It's time to jump into the fan art. Overwatch has a huge community of people who love to draw its big roster of heroes and people who are also incredibly fast at whipping up stunning art within hours of an announcement.
🌊🌊🌊#dva #overwatch #waveracer pic.twitter.com/iVnLcMBDBJ

— darwh ✧ (@darwh00) August 4, 2018
Waveracer summer vibes! @PlayOverwatch #dva pic.twitter.com/BbaG9ya59L

— 𝐕𝟎𝐍 wants Wraith Kunai 💉🇨🇷 (@VonHollde) August 4, 2018
Thank you Blizzard😍😍😍 pic.twitter.com/JPaFjAghAx

— ゆえこっこ (@yue_co) August 4, 2018
I love her!!!!! pic.twitter.com/uZAtDcOoYC

— REMADE!!! ✨ VIEW PINNED! (@angelasrocket12) August 4, 2018
dvas skins are always so cute!!!!!!!😭 pic.twitter.com/bIbSSwPEhw

— tess (quibbs) thompson!! (@quibbed) August 5, 2018
As you can see, the heart glasses are very prominent. Overwatch fans like a lot about the game's characters, but when Blizzard gives a hero sunglasses, the fans burst in approval.
My favorite kind of Overwatch fan art is when the characters are shown in more mundane situations. They're all so heroic in the game and cinematic shorts. Sometimes you want to see them look more human, more believable. Theses artists nailed that look.
a good way to celebrate the start of my summer vacation, thanks @PlayOverwatch <3 #overwatch #dva #waveracerdva #summergames #OWアート #オーバーウォッチ pic.twitter.com/gGOl1SAd13

— 空雨🌧Kuu @ Tattoo Apprentice (@crowcourier) August 4, 2018
overwatch dva pic.twitter.com/sWAi4I4kjf

— たえ (@tae402) August 4, 2018
Then there's the really adorable art that basically takes the character into a whole other universe.
surf this!! #overwatch pic.twitter.com/9LRKz0XvFo

— tracey 🌱 wind-up comms closed (@rokudo) August 6, 2018
https://twitter.com/MysticWitchhi/status/1026459800438071296
https://twitter.com/calgoat_/status/1026533280705900544
Chibi Waveracer https://t.co/zB4cRbzgP4 & Hammond 🐰🐹🏝️@PlayOverwatch #Overwatch pic.twitter.com/N5kkc32qEP

— FINGER AND FISH / Heio.f (@hecoheio) August 4, 2018
I like this next one because Genji is such a serious character that it's funny to see him get picked on a bit, and also because D.Va would be the one that does it. A lot of artists on Twitter like to draw D.Va messing with Genji. It's always a funny interaction that I wish was more represented in the game through voice lines.
https://twitter.com/red_apple113/status/1026350630871302144
It's interesting to see how many people love this skin — it's almost like they've been lying dormant for months. Not every new skin gets this kind of adoration from fans. D.Va is unsurprisingly one of the most popular characters in the game. Up until now, she's been pretty neglected in terms of skins — especially when you compare the amount of legendary skins she has to someone like Tracer or Mei. She's also one of the most-picked heroes in the game, so I'm not sure why Blizzard hasn't went wild with the amount of skins for her. Clearly though, Waveracer D.Va will suffice … for now.
I'll leave you with this clip that is wrong on a lot of levels until you watch it enough times. It's not a roughly animated Fortnite dance, it's a dance of celebration for the true D.Va fans that have been waiting all of this time.
— Kimberly (@iiboharz) August 1, 2018
Get out there and own all those noobs in your new beach look. And let's talk about this dance becoming a pilot D.Va emote, Blizzard.