We absolutely have to have AR Hearthstone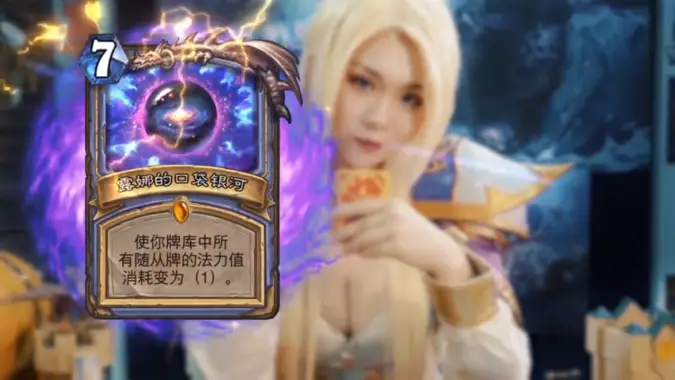 Hearthstone's Boomsday Project expansion has come out, so you might have already seen the card shown in this video reveal. That's OK, this is one reveal definitely still worth watching. Luna's Pocket Galaxy is a Mage legendary card that changes all of your minions to only cost one mana. There are some amazing combos possible with this, as you'll see. This video was directed by Chinese YouTuber AmazingLP in conjunction with NetEase and Blizzard, and it shows off the what could be the greatest augmented reality game concept since Pokemon Go. Don't worry if you don't speak Chinese — the language of Hearthstone is universal.
Jaina and Anduin are facing off in a game of Hearthstone, but as they play their cards the minions and spells happen real time on the table. Not only do they animate all the minions and spells, but we also get true to life bad manners from Anduin when it looks like he's going to win. The board is covered with dragons — and Jaina has no minions — things are looking grim. That's when she freezes the board and plays the Pocket Galaxy. Setting up with a Stargazer Luna and Archmage Arugal, what follows is an avalanche of Sorcerer Apprentice's, Antonidas, and a lovely bouquet of Fireballs. It looks like Jaina is playing with a version of the Exodia Mage deck, if you want to try and replicate her success.
AmazingLP has done tremendous work on making the spell effects and costumes look real. He injects all the silliness you would expect a game of Hearthstone would play if you could see the person across from you. It's reminiscent of the holographic chess that Chewbacca and R2-D2 play in Star Wars. With advances in augmented and virtual reality tech we may not be so far off from actually being able to play a version of Hearthstone that looks like this — maybe with less cheeky Anduin though. Make sure you watch during the credits for some great bloopers of Anduin as he plays his cards.