WoW
Aug 14, 2018 11:00 am CT
Who cares about the expansion? There are cats!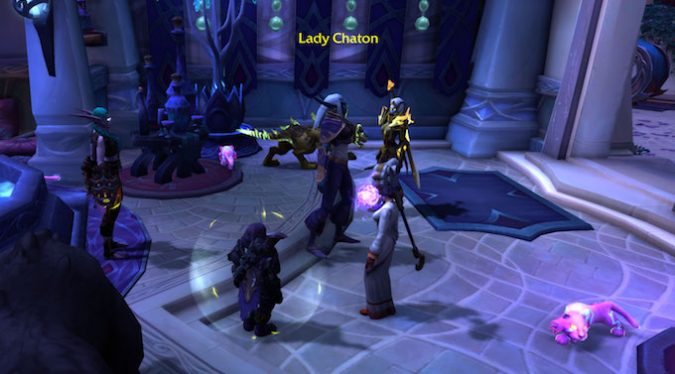 There's an expansion going on right now? But…but…CATS! The WoW Secret Finding Discord community has found something new, and as an Ailurophile I am all over this cat-related puzzle. The above image is Lady Chaton, who was added to Court of Stars in patch 8.0. When you talk to Chaton, she tells you, at length, about her cats. (This isn't a reference to me, is it, Blizzard? Just because I have more cat photos on my phone than of anything else…)
A random NPC hidden away in an old dungeon? There has to be more to this, so when I read about it, I may have ordered several guild members to accompany me to Court of Stars to see for myself. Chaton is tucked away in a back corner of the dungeon near Talixae Flamewreath. You'll find her tucked in a room on the south side of Talixae's area, back in a corner.
But what do you do next? The Lady Chaton channel in Secret Finding Discord has  hundreds — maybe thousands — of messages, all suggesting things that have been tried and failed. My guildmates and I set out to see what we could find, and decided to chase down a clue based on something Chaton said:
This is Shadow. He's always losing his toys, carrying them off on his many adventures. Where do you go, little one? Down to the Menagerie to see the exotic creatures of the world? Through the fragrant Twilight Vineyard? Perhaps next time you can bring back a trinket from your travels!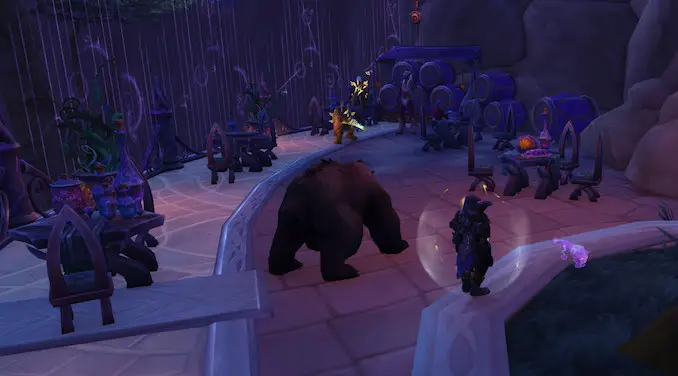 Venturing into the Menagerie in Suramar City, we found one lone kitten. It doesn't have a name and all it does is dig. Since Shadow is always losing his toys, we started by visiting the toy vendor — you know about her, right? — but dropping toys by this kitten did nothing. Chaton also mentioned the Vineyard, so we searched that, too, but couldn't find anything.
So, the hunt is on. If you want to get in on this, join the Secret Finding Discord community yourself to see the latest clues. Jeremy "Muffinus" Feasel said in an interview with Forbes, that Blizzard was very pleased how the community came together to figure things out, so we can expect more puzzles like this.
We still don't know what this puzzle will reward, but I just ordered more food for my pride, so maybe I'll stuff my pockets with kibble and see what happens.