Overwatch League caps inaugural season with All-Stars and Hawelka Award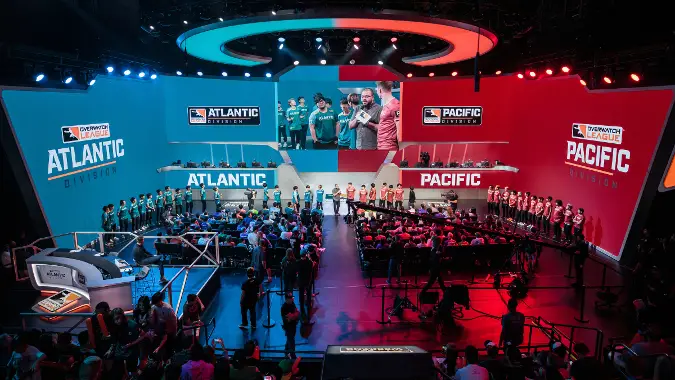 The true competition having concluded, this weekend's Overwatch League All-Star event was all about fun, with one shining moment as Mickie won the first Dennis Hawelka award.
The Dennis Hawelka award was announced within days of the untimely death of its namesake last November. Dennis "INTERNETHULK" Hawelka was a central figure of EnVyUs when they went on to win the first season of APEX against all odds. The award was intended to highlight a player who was a leader and force for good in the League. Many people thought it would be awarded to someone in an elder statesmen role as HULK was, like Custa. Another possibility was Babybay, who raised mental health awareness and $10,000 with the #babybaychallenge or Saebyeolbe and Pine, who both donated to ALS research.
In the end, the unrelenting positivity and good sportsmanship of Mickie won the hearts of the League, who gave him the first Hawelka Award. Dennis actually handpicked Mickie for the APEX EnVyUs squad based on those qualities after being impressed with Mickie's demeanor on Team Thailand during the Overwatch World Cup. He comforted his teammates and kept his smile bright during some dark days competitively with the Dallas Fuel. Mickie noted in his acceptance speech that he didn't want fans to watch him and feel sad, and that's why he kept things positive. With that in mind, here's a video you'll need tissues to watch.
But the weekend was all about unwinding from a great first season. Day one was packed with quirky show matches and tons of trash talk. Before the Lucioball shootout, the Philly Fusion's Poko said on Twitter this was his first game ever. Mercy main Custa also taunted main tanks as being mechanically unskilled before a wild game of Mystery Heroes — in this clip, as they walk away, Winston player Muma jokingly notes Custa's usual role. On day 2, Muma finally fulfilled his destiny by playing Symmetra in the All-Star game. Saebyeolbe said before the Lockout showdown they'd never practiced and had no plan.
The outlier of the weekend was the 1v1 Widowmaker shootout. Most of the other games were extremely casual, and the pros were clearly still having fun, but this whole thing — with a bracket and everything! — was so stressful I wound up watching boring LCS for a while to calm my nerves.
But the highlight of the whole weekend is the god-tier trash talk unleashed by the on-air talent before their game. The game itself looked like Silver players trying to puzzle out which end of the Tesla Cannon to look down. I don't want to spoil it, but I'm more than a little afraid of Soe now. See you in Season 2!