There's a Mike Morhaime tribute hidden in Blizzard World on the Overwatch PTR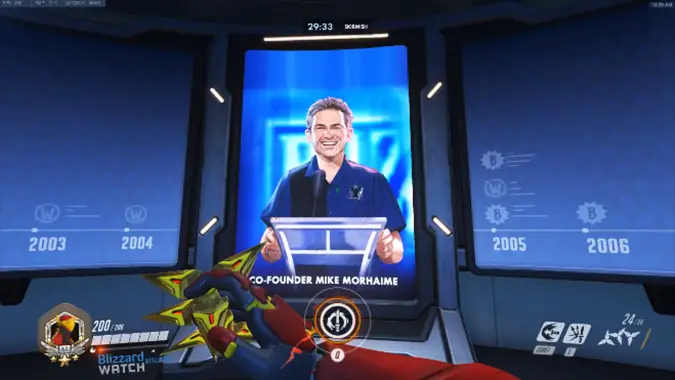 Tucked away on the latest Overwatch PTR is a tribute to Blizzard co-founder Mike Morhaime, who recently stepped down from his position as company president and CEO.
The tribute to Morhaime can be found, unsurprisingly, on the Blizzard World map inside of the Nexus Experience section, where there's an entire timeline of Blizzard's game releases with a portrait of Morhaime in the middle. On the ground there are plaques that state some of Blizzard's core philosophies that he no doubt helped create, like "Embrace your inner geek," and "Every voice matters." If you listen carefully, you can also hear a voice clip of him thanking everyone at the time of Blizzard's 20th anniversary.
Previously, that section of the map had a StarCraft-themed gift shop inside of it. Now, when you pop in there to grab a health pack, you'll be able to remember one of Blizzard's most important team members.
You can watch us explore this new part of the map in our Twitch live stream, but I'd also recommend going to check it out for yourself if you have the PTR installed. There won't be a lot of time in a real game to pay attention to all of the details and to actually hear the voice clip that plays. The Overwatch team went to a lot of effort to pay a thorough tribute to the impact Morhaime had on the company as a whole, so it's worth taking your time.
Blizzard has made a ton of tributes to players and past developers in its games. Overwatch itself has a reference to professional coach and player Dennis "INTERNETHULK" Hawelka on the Eichenwalde map. There's also a statue of Chris Metzen holding the hand of a young Winston at the Blizzard headquarters that was created as a going-away gift. It's nice to see them create something this big and memorable for Morhaime in this patch, which should come to live servers soon.