Here are some amazing BlizzCon 2018 panels you might have missed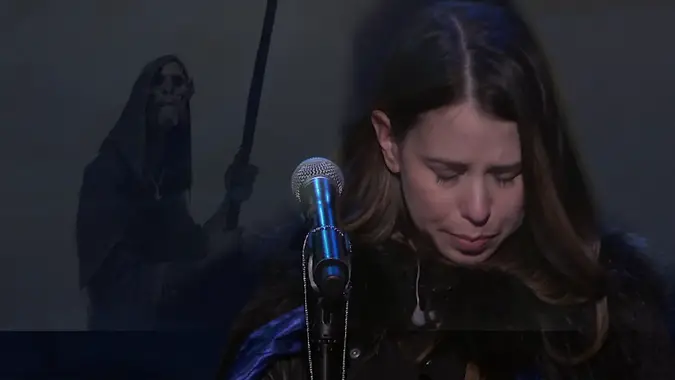 Look, we know — BlizzCon 2018 was chock full of news for all franchises. It's hard to catch every panel at BlizzCon, which is where the Virtual Ticket comes in exceptionally handy. And while you may have caught all the news, BlizzCon also featured a selection of panels that might not have been packed with big reveals, but were worth a watch regardless. We've rounded up some of the best for your consideration — think of it as your post-BlizzCon viewing guide.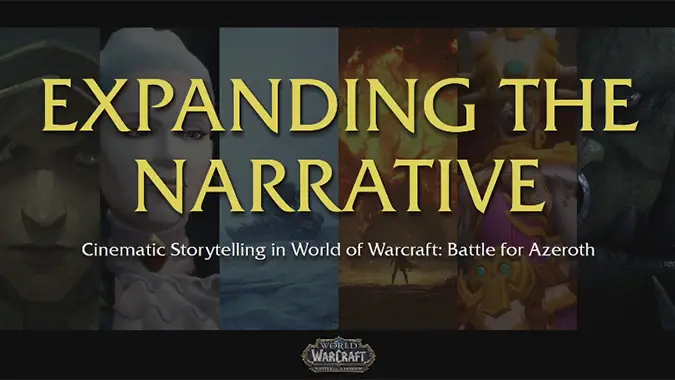 Battle for Azeroth Cinematics: Expanding the Narrative
Matt Rossi:  This panel talked about the Story and Franchise Department and how it works on every Blizzard property and makes more than just cinematics. Highlights include a discussion on how Legion affected Battle for Azeroth's focus.
The story team was concerned with telling smaller scale personal stories after the gigantic cosmic epic that was Legion's ending, and that's where the focus on characters like Sylvanas, Jaina, Anduin, and Saurfang comes from. Old Soldiers and Lost Honor came from discussions had while brainstorming the Battle for Azeroth intro cinematic, and that desire to focus on personal stories also influenced things like the Jaina Warbringers short. Cinematics Project Director Doug Gregory mentioned walking into a meeting, saying "I want Jaina to sing a dirge," and then nobody said anything for a while, making him grateful when a late arrival entered and asked what they were talking about.
The panel is great to watch — everyone was infectiously excited for their jobs. Hearing about Terran Gregory and Christie Golden's meetings that devolved into helpless laughter plotting it all out is a delight to witness.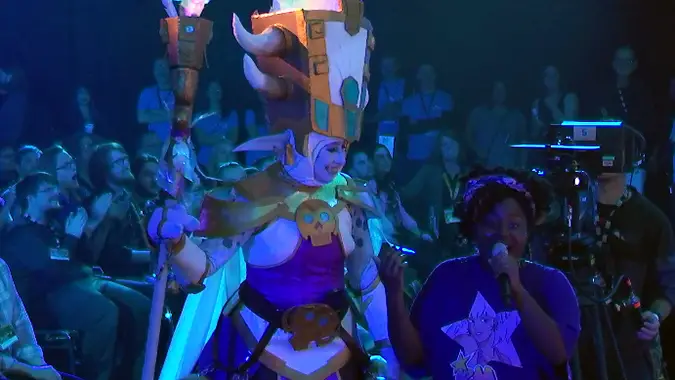 Voices of War: Horde vs. Alliance
Anne Stickney: Some of World of Warcraft's most beloved voices hit the stage in this panel, as well as a few of the new stars from Battle for Azeroth. Sitting on the panel are Josh Keaton (Anduin Wrynn), Patty Mattson (Sylvanas Windrunner), Laura Bailey (Jaina Proudmoore), Indira Varma (Katherine Proudmoore), Susan Wokoma (Princess Talanji), Abubakar Salim (Rokhan), Alex Desert (Bwonsamdi), and Maryann Strossner (Scrollsage Nola). It's a big group, but everyone gets a chance to speak about how they connect with their characters and come up with the voices we love to hear. Senior Narrative Designer Steve Danuser is also on hand and shares some good tidbits about the development of Battle for Azeroth's characters.
You don't want to miss this one, because it includes a surprise live Daughter of the Sea performance from Laura Bailey and the Blizzard team. But beyond that, it's worth it just to see Susan Wokoma's delightful reaction to a pretty stunning Talanji cosplay in attendance at the panel!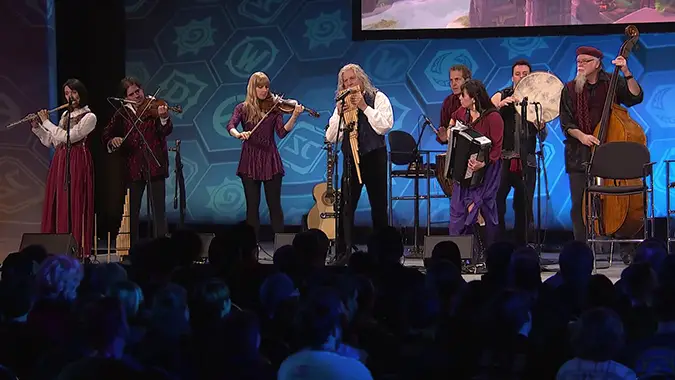 Immersive Sounds of Azeroth
Deb Montague: This panel hit on sound design, focusing on the creation of Drustvar's unusual ambient background noises. Sound isn't just putting bird noises on a loop — if they just did that, after hours of play you might get bored with the sounds and — horrors — turn it off!
One of the highlights of the panel was a discussion on the creation of sounds for Waycrest Manor. The first thing you notice, when you get close to the manor, is the sound of a pipe organ. In the dungeon, the organ is a character unto itself. The fight with Lord and Lady Waycrest revolves around her playing the organ and casting spells which emanate from the organ. As you journey through the manor, you'll encounter places where there are pipes. Sound emanates from these points, calling a witch. Once the witch is killed, there is a discordant sound and that location is silenced. Who knew Waycrest Manor was this complicated?
Voices of Overwatch
Anne Stickney: It's a roundup of familiar and beloved Overwatch voice actors talking about their parts, how they connect to their characters, coming up with the voices, and more. Matthew Mercer (McCree) and Keith Silverstein (Torbjorn) are there, along with a few of the newest heroes to hit the game. Jennifer Hale is the voice of Overwatch's newest hero Ashe, and we're also treated to the first BlizzCon appearance of Matilda Smedius (Brigitte), as well as the dual vocal talents of Dee Bradley Baker and Jon Lipow, who voice Hammond and Wrecking Ball.
Seeing the voice actors talk about their experiences is always a treat, but you absolutely do not want to miss Dee Bradley Baker delivering Hammond's squeaky hamster lines live. It's completely bizarre, astonishing, and downright impressive to watch – I have no idea how he does it! There's also a very brief Q&A at the end of the panel with a few interesting questions for the cast. Both voice actor panels really hit it out of the park this year!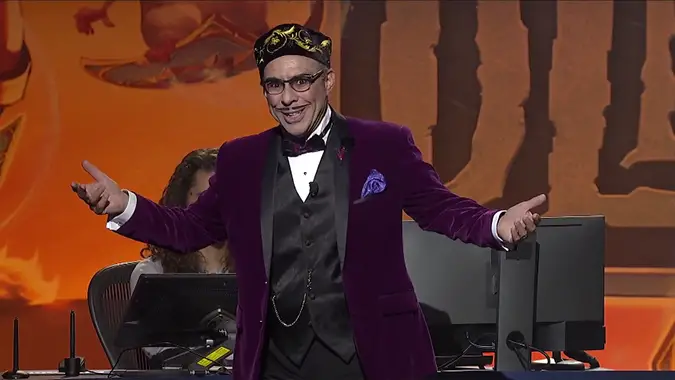 Build a Panel: World Creation in WoW
Matt Rossi: Darin De Paul is astonishing and you need to watch him torment three WoW developers for an hour. No, really — this is the panel the community put together through a series of online votes throughout the leadup to BlizzCon 2018.
Darin De Paul hosts in character throughout the entire panel — it's worth watching just to see him at it. He's joined by Senior Game Designer Steve Burke, Principle Level Designer Gary Platner, and Lead Level Designer Jim Chadwick, as well as Level Designers Colin Volrath, Josh Navarro, and Sara Wons. The panel talks specifically about how a zone like Boralus is constructed — how the level designers build a living, breathing city out of the original idea of what they need the zone for, and how they construct and animate and inhabit the place.
And man, Darin De Paul is simply fantastic as a host.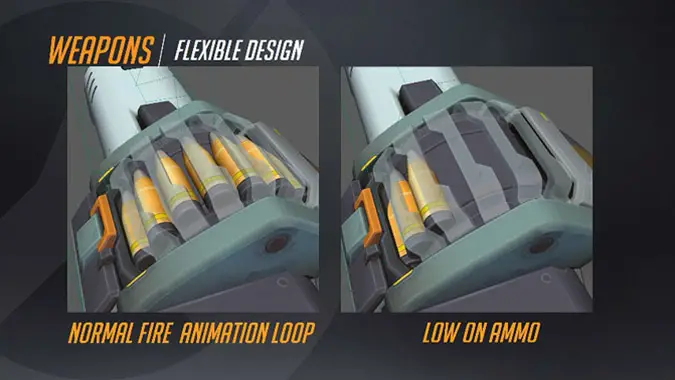 Overwatch: Building a Hero
Tyler Colp: Whether you play Overwatch yourself or spend hours watching Overwatch League wondering about how everything looks so effortless, you should give this panel a watch. Several members of the game's team break down what it's like to create hero abilities, models, animations, and sound effects. It's a panel about how hard it is to create something that looks and feels smooth that can also can be played at a incredibly high level, and the immense effort and artistry that fills the world and cast of Overwatch.
There's a shot in the panel that my thousands of hours in the game couldn't prepare me for: heroes like Junkrat and Pharah lie to you. The individual grenades and rockets slotted into their guns — that you see during every single match — do not actually display the correct amount of shots left. Like with a lot of things you learn in this panel, the team artfully hides details with elegant animations to allow for iteration down the line, and to keep the game visually consistent. These are the kind of tricks that make the entire game look effortless and playable at a high level of skill, while also giving each of the characters their own specific feel. That philosophy extends out to the rest of the game and make this panel incredibly worth watching.
These are our recommendations — but you don't have to take our word for it. Check out the panels above for yourselves, as well as any other panels you may have missed, while the Virtual Ticket is still available.