Diablo 3 Patch 2.6.4 PTR introduces the Season of Grandeur and some huge set buffs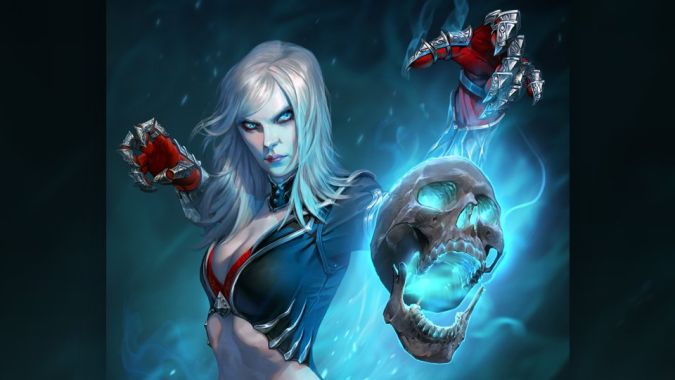 Blizzard is about to put Diablo 3's Patch 2.6.4 on the PTR for a week of testing — an unusually short amount of time for a patch to get tested on the PTR, implying a fast turnaround for it. In addition to this short PTR, there will be some significant changes in terms of quality of life for a lot of classes, as certain class sets are getting significant buffs.
But there's also a big change that a lot of players pushing cutting edge Greater Rifts may not like: from now on, you won't be able to change your Paragon Points while in a Greater Rift or while said Rift is open. Players have been switching their Paragon Points around during Rifts in order to get the absolute peak of performance — imagine having the most AOE possible during the clearing process and then switching points around to do more damage to the Rift Guardian at the end, for just one example. Blizzard has decided that players doing this level of micro-management isn't really how they want Greater Rifts to be played, and so they've made it so once you open that GR, you're locked to your Paragon build.
To compensate, and also push diversity in Greater Rifts, several class sets have seen significant buffs to their key abilities. For example, the Wrath of the Wastes 6-piece set bonus has been increased from 3000% to 10000% — and no, that's not a typo. Various other sets for Crusaders, Demon Hunters, Monks, Necromancers, Witch Doctors, and Wizards will get similar buffs. Now, this is the PTR, so don't assume this is the final version or that these changes will go live as-is, but it's a pretty significant buff for a whole host of playstyles that may be under-represented in end game Greater Rifts.
Also up for testing is the Season of Grandeur bonus. Unlike previous Seasons, only Seasonal characters will gain the buff from the Season of Grandeur, which gives all Seasonal characters the legendary ability from the Ring of Royal Grandeur. It won't stack with that ability if you have a Ring of Royal Grandeur equipped or applied to yourself via Kanai's Cube, but that just means you can use other rings and ring abilities during the season. Getting your 6-piece set bonus with only five pieces equipped when set bonuses are getting strong buffs should be an interesting thing to play around with.
If you want to help test this one week of PTR, go to your Blizzard account page and select the Create a PTR Account on your Diablo 3 license, then the Diablo 3 PTR should be available as a drop down on the Battle.net launcher when you go to play Diablo 3. If you've already tested previous PTRs, you shouldn't need to create a new PTR account this time around. I'm definitely interested in playing around with various Barbarian sets I have to see how I feel about the Raekor's Set vs. the Wrath of the Wastes for GR pushing — at present I'm a Wastes fan, but I do love charging things.
We're launching the Patch 2.6.4 PTR later this week for some rapid-paced testing, and we want you to have the full download before you jump in to provide feedback. Between long-requested quality of life changes, class set balancing, and a new game-changing seasonal buff, Season 16 is going to be quite the journey.
PTR Details
We will be conducting the Patch 2.6.4 PTR over the course of one week, starting Wednesday, November 21. During the course of the PTR, there may be periodic maintenances, outages, hotfixes, or minor patches.
There will be two buffs active to help you on your PTR journey: increased Legendary drop rate and double Blood Shard drops. This should allow everyone to acquire any class set items (or supplemental items) that might be needed!
Feedback should be provided in the PTR Feedback forum while bug reportsshould be provided in the PTR Bug Report forum; clearly separating these tracks allows our designers and quality assurance testers to hone in on the information they need most.
With a huge number of class set changes and a game-breaking Seasonal buff, we know it will be very tempting to get your hands on as much as you can! To help guide your focus, we'd like to offer our insight behind what we'd most like to see tested.
Players pushing Greater Rifts as high as possible in both Seasonal and Non-Seasonal play
Experimentation with class set mix-and-matches, as made possible by the Season of Grandeur buff
PTR Tips
This PTR is a little different from ones we have conducted in the past (and it's been a while since we last had one). Whether you're a seasoned PTR veteran or this is your first go around, here are a few tips to get you started.
Because of the limited duration of this PTR, we ask that participants pick a particular portion of this update to focus on testing.

For example, if you're primarily a Monk player, consider what changes impact the Monk specifically. What you like best, what you think may still need adjustment, and what you may want to see in the future (even if that may be beyond the scope of this patch) are all good questions to ask yourself.

Prior to the start of PTR, consider stocking up on items like Puzzle Rings and Bovine Bardiches.  Having these available after you import your character can make any necessary PTR farming much faster!
Try to break things! Just tell us when you do so we can make sure the 2.6.4 launch is as smooth as possible for all our fans.
When providing feedback, focus less on a solution and more on your experience. How did the changes make you feel? Was there something off you noticed? Did something seem wrong or insufficient? Suggestions are always welcome but identifying the issues themselves is most important.
Patch Notes
Last updated November 19 @ 10:00 p.m. PST.
Below you'll find the preliminary PTR patch notes for patch 2.6.4. Please note that this isn't the final version of the patch notes and that some changes may not be documented or described in full detail.
PTR PATCH 2.6.4 – v2.6.4.49286
To provide feedback on patch 2.6.4, please visit the PTR Feedback forum.
To report any issues you experience while playing, please visit the PTR Bug Report forum.
For additional information on how to participate in the PTR, click here.G
General
Quality of Life
Philosophy

For this patch, we wanted to include a few frequently requested Quality of Life changes and focused on better celebrating and indicating Primal Legendary drops.

Five (5) additional Armory tabs have been added for all characters, bringing the total to 10
Greater Rift Keystones are now stored in the Materials tab

Any existing Greater Rift Keystones in both inventory and stash have been automatically moved

Primal Legendaries are now marked by a red beam when they drop
Primal Legendaries on the ground are now indicated by a red pentagram icon on the mini-map
Primal Legendaries now have a red border and updated background on their icons
Greater Rifts

Philosophy

The gameplay of micro-managing Paragon points during the course of a Greater Rift doesn't feel like especially engaging gameplay, nor was it consistent with the other existing rules of entering a Greater Rift. In addition, the below change to matchmaking is to make it much easier for all players to find groups for Greater Rifts, as the previous window (only between Greater Rifts) is typically very small.

Paragon points can no longer be swapped while a Greater Rift is open
Players can now be matched into public games where a Greater Rift is open

Players who join in this manner will not be able to enter the active Rift
Players inside the Rift will be able to continue with no additional difficulty scaling until the run has been completed

Seasons

Season 16: Season of Grandeur

The buff for Season of Grandeur has been implemented

This buff gives all Seasonal players the legendary power from Ring of Royal Grandeur
This buff does not stack with additional Ring of Royal Grandeur (either equipped or in Kanai's Cube)
Unlike previous Seasonal buffs, this buff will not apply to Non-Seasonal players

When completing a Greater Rift level 70 solo for the first time in a Season, a Primal Legendary is guaranteed to drop from the Rift Guardian
How to Particpate
To participate in the public test, you must have a Diablo III game license attached your Battle.net account in good standing (i.e. one that hasn't been suspended or banned). In addition, you will also need to download and install the Blizzard Battle.net desktop app if you have not already done so.
Step 1: Create a PTR account. To create a PTR account, log in to Blizzard Battle.net Account Management and double-click on your Diablo III game license; this will bring you to the game management page. On this page, click "Create a PTR account.
If you've participated in any previous Diablo III PTR, the "Create PTR account" button may not appear. This is because you've already created a PTR account and can therefore skip this step.
Step 2: Once you have created a PTR account, installed the Blizzard Battle.net desktop, and logged in with your Blizzard Battle.net credentials, select "Diablo III" from the main menu on the left-hand side of the application.
Step 3: On the Diablo III screen, there is a drop-down menu right above the "Play" button (note that this may say "Install" if you do not have Diablo III currently installed). Select "PTR: Diablo III" from this drop-down menu before proceeding.
Step 4: You should now have the option to install and play the patch.
The PTR is available in all supported languages, and accounts from all regions are eligible to participate.
PTR Character Copy
The option to copy your existing Diablo III characters from your live account to the PTR will be available and can be done directly through the PTR client. However, only one region per account can be copied at a time. So, if you choose to copy characters from your account in a different region, any previously copied PTR characters will be lost.
Step 1: Log into the live game and then log out.
Step 2: Log into PTR client and create a level 1 character. After you're done, return to the main character screen.
Step 3: Click on the "PTR Copy" button located in the upper right-hand corner. (The PTR Copy button will not appear in-game until you have created a new level 1 character.)
Step 4: Select your region.
Step 5: Click "Copy." This will copy all characters on your account from the selected region.
Step 6: You will be disconnected from the PTR client.
Step 7: Log back in. Your copied characters will be available for play.
Please note that you can only copy characters from one gameplay region at a time. If you choose to copy characters from a different region, any previously copied PTR characters will be lost. In addition, you can only copy characters over to your PTR account once every 24 hours. Attempting to copy characters before this cooldown is up will result in an error.
As this is a test server, please anticipate uneven game performance, and note that restarts and downtime may occur without warning. Thank you, and we look forward to your feedback!