Sugar Plum Mercy and everything else we know about Overwatch's Winter Wonderland 2018 event
Updated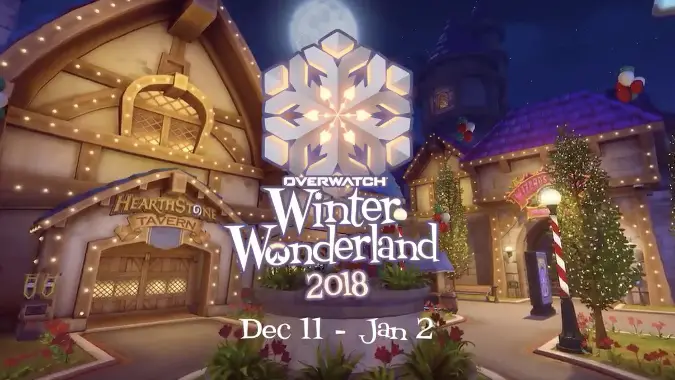 The annual Overwatch Winter Wonderland event is running from December 11 to January 2 — just like the leaks predicted. And as the release date creeps closer, we're learning more about the snowy, cosmetic-filled event.
We know from an Overwatch website mistake that a new skin called "Figure Skater" is coming. That same mistake led to the early reveal of a few Halloween Terror event skins, so it's likely that the Winter Wonderland skin name is correct too.
On a more speculative route, this shirt went up on the Blizzard store. It features a few Winter Wonderland skins we've seen before — and a few we haven't, like the elf-looking Junkrat on the top right. Could that be a new Junk-Rat King skin, to complete the Nutcracker theme? We've also seen Widowmaker as a prima ballerina styled after Swan Lake's roles — it looks like she could be getting a Snow Queen variant.
The first official skin is the snowboarder Zarya… and it's been pointed out that her helmet has a worrying resemblance to Cuddle Bear Stitches in HotS.
Pawsitively fursome.

Shred your opponents as SNOWBOARDER ZARYA (Legendary)! 🏂

Winter Wonderland begins Dec 11! pic.twitter.com/Ji6o3Rn5t9

— Overwatch (@PlayOverwatch) December 5, 2018
On the second day of Winter Wonderland reveals Jeff from the Overwatch Team gave to us Arctic Fox Lucio, a mecha-fox with a really cool ponytail. Are these all going to be animal-themed?
Level up your sleet skills.

Powder up your game as ARCTIC FOX LÚCIO! 🦊

Winter Wonderland begins Dec 11. pic.twitter.com/UBKb84pQgo

— Overwatch (@PlayOverwatch) December 6, 2018
The third day of Winter Wonderland Eve brought us a special treat. Not only did we get a sneak peek of the fantastic Sugar Plum Fairy Mercy skin, but we also got a gorgeous commissioned fanart of the skin by popular artist Faebelina. Faebelina has been doing an ongoing series of the heroes of Overwatch reimagined as faeries, so this is a natural fit.
Straight from Sweetzerland.

Play as pixie perfect SUGAR PLUM FAIRY MERCY (Legendary). 🧚‍

Winter Wonderland returns Dec 11. pic.twitter.com/TE2Y4e6cIe

— Overwatch (@PlayOverwatch) December 7, 2018
Game Director Jeff Kaplan also told popular Twitch streamer Emongg in his BlizzCon interview that the Winter Wonderland event will have the same Yeti Hunt and Mei's Snowball Offensive arcade modes, along with the snowy Hanamura and King's Row maps. Kaplan also said this year's event will feature a new Winter-themed map, which could be an arcade map like the spooky Chateau Guillard last month.
I like knowing a bit about what's coming, but it's more fun to log into the game on patch day and see all the new stuff as a surprise. Let's hope that the leaks stay away and Winter Wonderland 2018 resembles an actual Christmas morning with presents waiting to be opened.