WoW
Dec 20, 2018 1:30 pm CT
See You Later Bundle says bye-bye to a pile of pets and mounts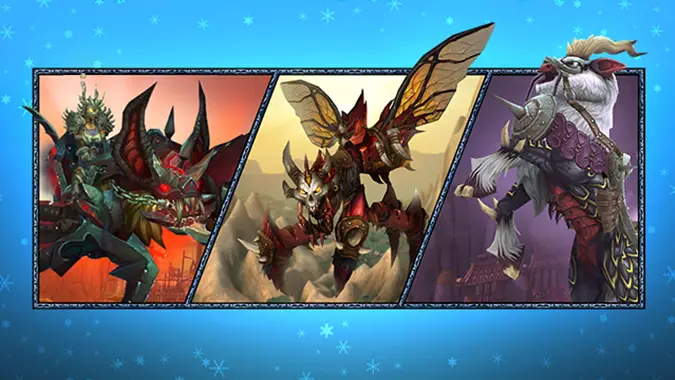 No mount stays forever, my son — or at least the Blizzard Shop has decided it's time to bid a fond farewell to some companions. The Blizzard Shop will soon be retiring a selection of pets, mounts, and delightful cosmetic helms to the vault. However, if you've missed the opportunity to snap them up, now would be the time. The See You Later Bundle contains three mounts, three pets, and all three cosmetic helms at a discount.
What's in the bundle? On the mount side of things, you can get your hands on the Grinning Reaver, Armored Bloodwing, and the Swift Windsteed. As for pets, Lil' XT, the Cenarion Hatchling, and the Moonkin Hatchling are also being retired. As for helms, there were only three available to begin with: the Crown of Eternal Winter, the Jewel of the Firelord, and the Hood of Hungering Darkness. All of these items will enter hibernation on January 6, 2019, and will no longer be available for purchase — for now, anyway.
As for the See You Later bundle, it's a "dynamic bundle," which means if you already own some of these items, you'll get a discount on whatever's remaining. You won't be charged for duplicate items you can't actually use. And as long as you're logged in, the Blizzard Shop will do the math for you and let you know what the total cost will be.
But if none of the retiring items interest you — or you already own them all — there's good news on that front as well. Almost every pet and mount in the Blizzard Shop is currently half off. The two exceptions are Whomper, this year's charity pet, and the recently released Vulpine Familiar mount. Everything else? Half off.
Both the bundle and the sale are pretty good deals if you're looking for last-minute gift ideas for the gamer in your life…or, you know, you just want to fill out your pet and mount collections a little more. Look, those collection achievements don't exactly complete themselves, you know. Head to the Blizzard Shop to check out all the deals and pick up some darling new companions before they're gone.