New Loot Goblin amiibo provides a daily visit to Greed, great interior decoration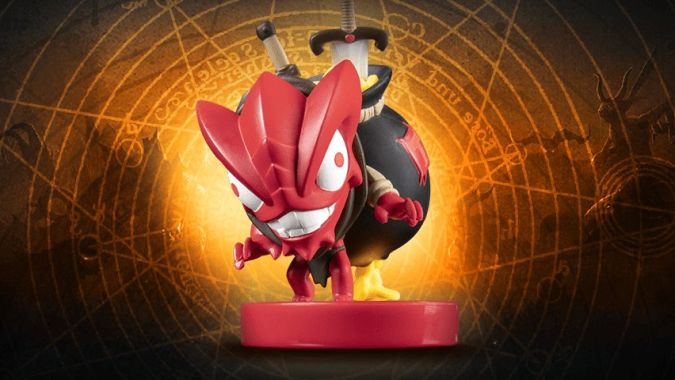 Back in the distant, distant past of November 2018, Diablo 3 arrived on the Switch and with it came the announcement of a delightfully devious looking Loot Goblin amiibo to be released in December. True to their word, Blizzard has finally let the Loot Goblin amiibo out into the wild! And while we had a solid idea of what the Loot Goblin amiibo would do, the specifics weren't known until now.
Turns out, using the amiibo will take seasoned Diablo 3 players to a familiar location: The Vault. There, you'll find hoards and hoards of gold, loot, and Treasure Goblins. The goblins in there don't drop as much non-gold loot as they would were they encountered in the wild, but trust me — you'll be plenty happy with your riches after even just one run. No treasure realm is complete without a boss, though, and that's precisely why your time in The Vault culminates in a boss battle with Greed.
Greed — outside of having a hilariously repeatable death-chest you can click when she dies — drops, well, even more gold. But also some legendary items. All in all, it's a fun little bonus for purchasing the amiibo. And if you don't want to buy the Loot Goblin, you can still use any other amiibo you have to summon a Champion pack of enemies out in the world. Each amiibo type — Goblin and non-Goblin — works only once per day but is still more than enough to give you a boost. This particular amiibo is a GameStop exclusive and will run you $15.99 USD.
As for any complaints that this turns the game into a "pay to win" title? I hate to break it to you, but these are pretty standard bonuses as far as amiibo go. Breath of the Wild, considered 2017 Game of the Year by many, offered exclusive (and sometimes strong) gear from amiibo, Splatoon 2's amiibo provide gear that can be used in online versus matches, and so forth. Plus, you still have to fight enemies to get the rewards, which can be earned completely amiibo-free with some nice RNG — or powerful friends.
Point being, the Loot Goblin amiibo provides some in-game bonuses, but none you'll be sad to miss out on if you can't (or don't want to) buy it. Also, it's pretty cool looking. Great conversational piece, y'know?