Overwatch Season 14 will start just two hours after Season 13 ends — so can we please get an Unranked Competitive mode?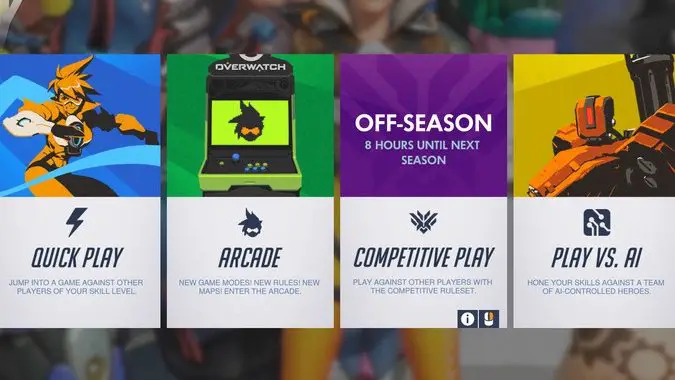 Overwatch's current Competitive Season 13 will end soon, but the break before the next Season will only be a couple hours.
Season 13 will come to a close on December 31 at 2:00 p.m. PST — which means if you haven't done your placements yet, you should! And remember: you get the Competitive Points (CP) for your highest rank achieved during the season, not the rank you end the season on. Top-500 players will have to race for their place in the rankings though because, as usual, you have to be in Top 500 as the Season ends to claim the special, animated spray.
Season 14 will start on the same day, just two hours later at 4:00 p.m. PST. For the first time in the game's history of having its Competitive Mode, the new Season will follow the old one within the same day, instead of within weeks or days. Take that time to get up, stretch, eat, or play something else.
That also means that the game's Off-Season Competitive Mode will only be available for a mere two hours. That's unfortunate, because Off-Season Competitive offers the multiple-round ruleset and removes the stress of a Skill Rating attached to it. It's a consistent way to actually practice playing the game competitively compared to Quick Play, where matches are determined by one round of attack or defense.
With a few changes, a permanent "Unranked Competitive" mode could be healthy for the game. It would probably need to replace players who leave or disconnect unlike regular Competitive. Backfilling in an unranked mode wouldn't matter since Skill Rating isn't important. I suggest, somewhat controversially, that an unranked Competitive mode should also reward a small amount of CP for playing the entire game — but that would likely spark a whole discussion on the purpose of CP in the first place.
When the break between Seasons is essentially nothing, there's really no excuse not to have a permanent way to take your own break while playing under the same ruleset. At the moment, there's not one good way to seriously practice a new hero without jumping into Competitive and possibly damaging your Skill Rating. A new mode could encourage people to play more than their favorite hero and keep the game fresh.