WoW
Jan 21, 2019 4:00 pm CT
Azerite gear gets more powerful in Battle for Azeroth Season 2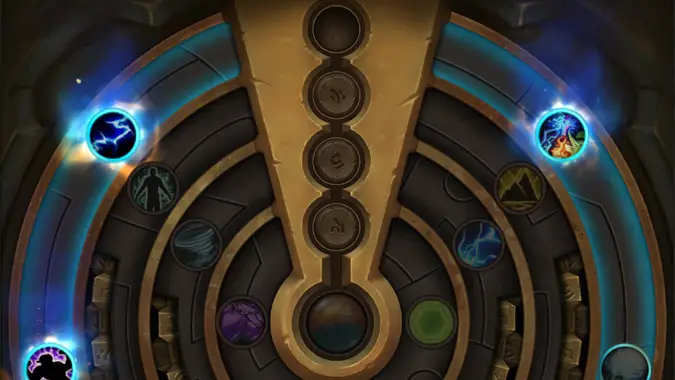 So, season 2 of Battle for Azeroth opens on Tuesday alongside Battle of Dazar'alor, and with it comes many of the Azerite changes from patch 8.1. This mini-release basically functions as a "part two" of the patch changes rather than its own numbered patch.
From the beginning of the expansion and throughout season 1, we had a max amount of four rings on higher-level Azerite gear. One of the most highlighted changes for season 2 is the addition of a fifth ring on Azerite armor. This is only on new gear going forward — it won't apply to any existing gear or to any Uldir gear you get afterward. It applies to all 370+ ilvl gear from the new raid, Mythic+ dungeons, world quest emissaries, and PVP after season 2 starts. The new Azerite armor also has about 20% more Stamina than current gear.
Season 2 Azerite trait rings:
Outer ring: class spec trait options
Second ring: location-themed class spec trait options
Third ring: performance boost options for healing/damage/mitigation
Fourth ring: defensive or utility traits
Inner ring: 5 ilvl increase
There will be two new item levels of Azerite armor: 400 and 415. The Azerite power levels required to unlock further traits will go up as Azerite armor ilvl increases. Wowhead has a breakdown of the Azerite level needed to unlock each ring on 370-415 gear. However, keep in mind that Artifact Knowledge will start increasing weekly again as a catch-up mechanic starting on season 2 release. There are a total of 10 catch-up ranks that will run through March.
And, finally, we get a couple new Azerite traits with season 2 as well. Patch 8.1 brought new location-themed traits — traits specific to where the item dropped from. We have already seen the Warfront-themed traits with Night Elf and Forsaken traits. Season 2 finishes this off with a few Bwonsamdi traits for Azerite gear acquired from Battle of Dazar'alor.
Bonded Souls: Your spells and abilities have a chance to trigger a Soulbond. When this occurs, every 5 for 15 sec bond with the soul of your nearest ally, granting you both 624 primary stat for 5 sec and healing each of you for 3798.
Seductive Power: During combat, Bwonsamdi's spectral visage has a chance to appear near you, beckoning you closer. If you approach him, gain 28 to all stats, stacking up to 5 times. If you fail to heed his call, lose 1 stacks.
Treacherous Covenant: Your primary stat is increased by 166 while you are above 50% health. You take 15% increased damage while below 20% health.