WoW
Feb 14, 2019 5:00 pm CT
The Invasion of Vol'dun hides a pair of secret robot battle pets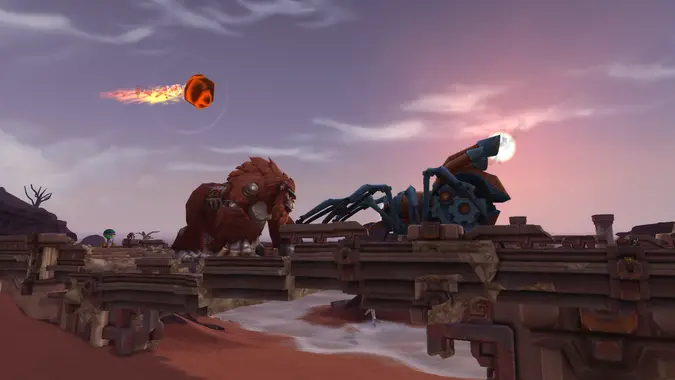 If you've participated in the Invasion of Vol'dun quest event you've probably seen Dookthar the Destroyer and Arachni locked in combat. It seems like the Horde and Alliance know all too well the appeal of building giant robots and making them box. What you may not have noticed is that there's a reward for helping your faction's giant robot win. Every time Dookthar is put down for the count or Arachni falls apart, they leave behind a treasure chest with leftover parts that fell off during the fight. Collect enough and you can build your very own fighting robots!
If you're Horde you piece together the Rebuilt Mechanical Spider out of A Handful of Glass Spider Eyes, Steel-Plated Arachnid Exoskeleton, and a Mecha-Spinneret. The Alliance makes the Rebuilt Gorrila Bot by combining a Banana-Shaped Power Cell, Steel-Plated Primate Exoskeleton, and a Bludgeoning-Resistant Chest Reinforcer. After all, you wouldn't want your mecha monkey to cave its chest in the first time it got excited. The best news is that each of the pieces to make the pet are unique items —  you won't get any duplicates. Simply come back to the big brawling bots over three different invasions and you'll be all set.
If you want to make sure that your sides robot wins, you can always turn in extra Alkalescent Salt to the ringside coach. Don't worry if the world quest Battle Bots! isn't up during the invasion, as the Krolusk in the area will still drop salt for you to supercharge your side. If you arrive too late for the fight, it takes about five minutes for them to get built back to full health. Go grab more salt in the meantime — just in case.
Having little secrets like these to stumble on makes the game feel richer — we've already seen how much stuff the developers have hidden in the waters around the continents. I've started scouring the other zone's invasions to try and see if anything new pops up. So far all I've found is a lot of angry Alliance with pointy sticks — but I'll keep looking! You never know what could be just under that next rock.