WoW
Mar 5, 2019 2:00 pm CT
Just what we always wanted! Severed Fish Head Hats are coming to Azeroth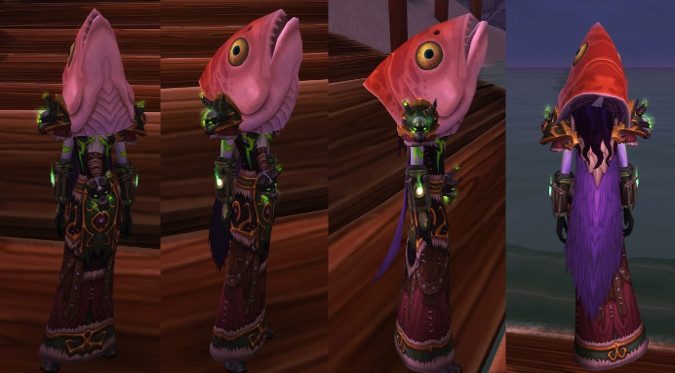 Guys, I know y'all like horrible hats. Don't try and deny it — you just love sticking an Ogre head on top of your head and ruining an otherwise serious cutscene. Well, now rejoice because thanks to the folks at Wowhead, we have these images of a new haberdashery of horror available to all players.
Severed Fish Head Hats Coming to the Darkmoon Faire in Patch 8.1.5 https://t.co/we5pP0istI pic.twitter.com/dxfwjmOcYI

— Wowhead💙 (@Wowhead) March 5, 2019
That's right, if for whatever reason you have not felt enough like a Lovecraftian horror, if your Deep One Hallow's End outfit just wasn't doing it for you, all you must do is wait for patch 8.1.5 and you'll at last be able to wear a giant fish head atop your shoulders like a pyramid of halibut. There are two shades of these… the word delightful seems wrong, but I can't come up with a better one… briny chapeaus, the Severed Crimsonscale Head and its more calming counterpart the Severed Azurefin Head.
The hats have flavor text on them saying that "something strange is happening in the waters surrounding Darkmoon Island" and with only a one day duration and a limit of five in your bags at any time, you're going to have to be strategic when attempting to ruin the solemnity of a cinematic or otherwise use this to its best possible effect during someone's RP wedding. The hats are fished up, and they last for 60 minutes once used but will despawn after one day, hence the duration.
The folks at Wowhead have some speculation for how giant red and blue fish got to the area around Darkmoon Faire, why they lost their heads, why those heads are now fishable and what, if anything, this all has to do with the Old Gods. I won't pretend to know if any of it is true or false, but I will say this — you might want to get down to Darkmoon Island as soon as you can once 8.1.5 drops because I expect the waters around the island to be crowded with folks looking forward to a giant fish-headed version of Pyramid Head in the front of a lot of screenshots.