Off Topic: PBS Eons tells the origin story for life on Earth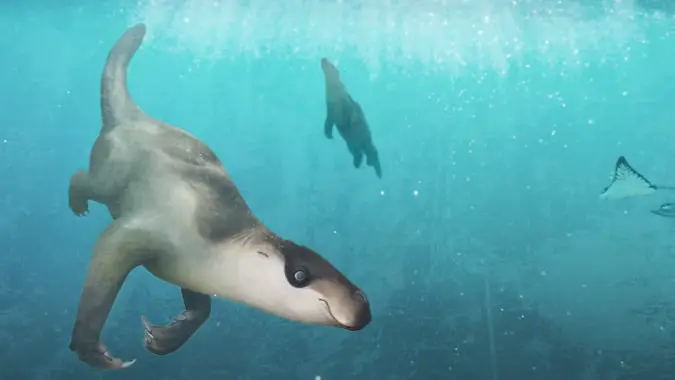 So, PBS has done a lot of great stuff. Sometimes it can be easy to forget just how much great television, both educational and otherwise, came out of our Public Broadcasting Service, especially considering how hostile we Americans can be to publicly funded arts and entertainment. I mean, Sesame Street by itself is an amazing game changer. But as cool as much of that stuff has been, I find myself utterly enamored of PBS Digital Studio's Eons program. In fact, I think it may be the best thing PBS has ever done.
Why? What's so great about Eons?
https://www.youtube.com/watch?v=__LyE_vX3sY
The Story So Far
The reason I love the show is because they do such a great job of taking huge, complex issues involving the prehistory of Earth and the development of life on this blue world of ours — and even going back to before it was a blue world — and they break that complex stuff down into easily digestible, entertaining pieces for you. The show's three hosts manage to remain approachable and even a touch nerdy while also being quick witted and amusing, never treating the subject matter as dry or uninteresting but recognizing the wonder and humor to be found in the subject. All three hosts — Hank Green, Kallie Moore, and Blake de Pastino — have their own style and presentation, but thank God none of them are boring, none of them drone, and all clearly have an appreciation for and love of the various subjects they discuss while still treating them with respect.
Whether they're talking about the last time global warming hit the planet and the effects we know happened, reminding us humans that not too long ago birds and cats were eating our heads, explaining why tiny mammoths were found on an island just off shore of California, or going into detail on how the animals of the Triassic period were fascinatingly varied, I've yet to watch an episode that hasn't taught me at least one new thing. Considering what an utter mark for paleontology I am, I have to admit I was pleasantly surprised at the breadth and depth of the show and its subject matter. I think my favorite episode is either this breakdown of Paleohistology and how we can learn a lot from fossil bone structure or the episode discussing how blood is even a thing at all. But they're all great and I recommend sitting down and just binge watching every episode and then doing it again and again while impatiently waiting for more.
They even admit when they don't know how to pronounce something! I know exactly how that feels.
They also have a Patreon, so if you have money to spare and you love this stuff as much as I do, considering donating. Yes, it's the future and even PBS is on Patreon, but to be fair, they've been crowdfunding their shows for years. Seriously, Eons and the other PBS Digital Studios shows are a great example of how there's wonderful content out there for you if you just look for it.