Overwatch might have been hiding Storm Rising's big reveal in front of us the whole time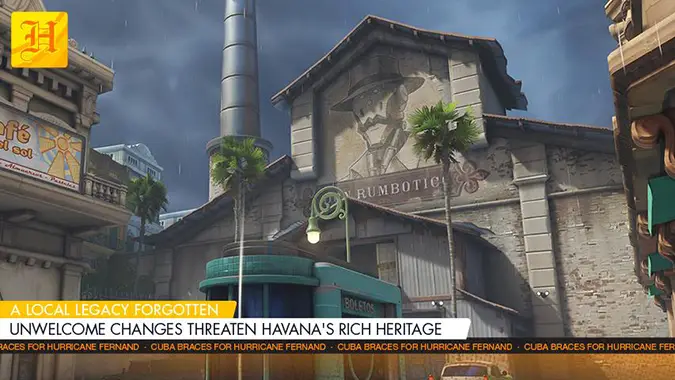 The Overwatch Archives event, Storm Rising, is coming very soon — and a clue about what might happen in it could have been in front of the game's players all along.
As was recently revealed, the Storm Rising event will take place in Havana, Cuba near a rum distillery that was suspiciously taken over by the government. We also know from the event's recent teaser that Maximilien and Talon are definitely involved and up to something in the area.
Overwatch strike team members Mercy, Winston, Tracer, and Genji — which is who we'll play during the PVE event — were sent to find and capture Maximilien, but it seems like our heroes will find out something else is going on. That something else might include the entire country of Cuba disappearing off the face of the earth somehow.
Reddit user Number9Robotic made the connection with the event's setting as well as the fact that the Earth in the game's Horizon Lunar Colony map doesn't have Cuba on it. It's missing other countries like Jamaica, but this is the only one tied to something we specifically know about. When you combine that fact with Mei's backstory involving the research of unexplained climate phenomena, it might suggest that Talon has some power to manipulate the weather.
It's unclear how something like that would get rid of an entire country, however. Hurricanes don't destroy landmasses and if they did, that's not a good look for the game to delete an entire portion of the world in its hopeful vision of the future. Plus, one compelling knock against the theory is that the current Numbani airport spawn location has a poster for traveling to Havana. Advertising travel to a country that doesn't exist makes no sense unless you read it as a out-of-fiction tease for the event.
Even if this theory doesn't turn out to be true, there's really no good excuse for why the Earth in Horizon Lunar Colony just omits entire countries. At this point, Blizzard has stopped teasing details of the event and has instead started posting new skins. So, we'll have to wait until the event goes live before we know if any of it is true.