WoW
Apr 19, 2019 5:00 pm CT
Get ready for the annual egg hunt, because Noblegarden arrives this weekend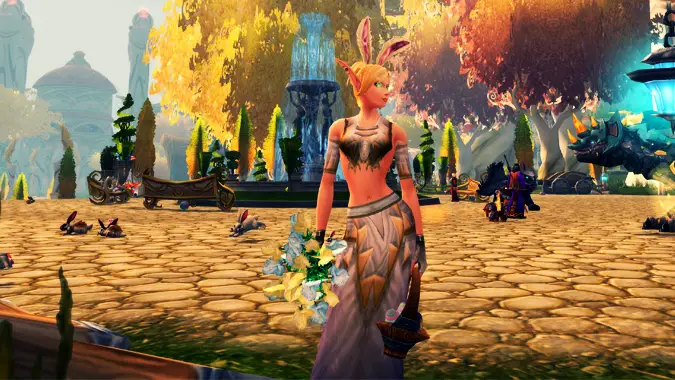 Noblegarden starts this Sunday, alongside the actual Easter holiday out in the real world. The in-game holiday will run for a week from April 22-29. You can find Noblegarden vendors and quests in the racial starting areas of major cities.
If you've never done Noblegarden before, it's not that hard: you'll just need to farm for a while. Check out Wowhead's Noblegarden guide for the full details on how to complete everything. To get every single transmog, pet, mount, and achievement, you need around 1400 Noblegarden Chocolates from the Brightly Colored Eggs. Mages need an additional 100 chocolates to learn how to polymorph rabbits. Now, this is assuming that you're extremely unlucky and don't manage to get any of the clothing or Spring Rabbit's Foot from the eggs. While farming, chances are good that you'll get a lot of what you need from the eggs before you finish. Even the Swift Springstrider can drop from the eggs, though it's rarer.
For farming eggs, the best Alliance spot is in Azure Watch. Not only is it usually a little quieter (since no flying deters people), but the eggs tend to spawn right around the buildings. It makes it easier to go around in a circle. For Horde, Falconwing Square is pretty straightforward and circular as well. The eggs are everywhere around the fences, carts, and in the fountain. However, if there are too many people there, Brill is also a decent spot. You can get a lot of eggs by making laps around the buildings. Don't forget to check the window sills and lamp posts there!
Here's a few of the egg farming areas:
There's one new reward this year: a Noblegarden-themed Hearthstone like we've seen added to other holidays. It adds some holiday flair to your everyday Hearthstoning and, if nothing else, adds to your toy count.
If you haven't done Noblegarden in a while, there have been a few recent (ish) additions:
Mages can buy Tome of Polymorph: Rabbit for 100 Noblegarden Chocolates, but you have to be at least level 60 to get it. One thing to note if you did Noblegarden in years past but don't have the transmogs in your collection: the Elegant Dress and Tuxedo Shirt and Pants are now uncommon quality bind-on-pickup. So if you have any old common quality versions hiding away, they won't count and you need to get new ones.
Additionally, egg hunting isn't just for achievements or farming. You can also set up your own Noblegarden Egg Hunts for friends or guild members by purchasing various Painted Eggs for silver or gold. When the eggs are picked up, they turn into grey-quality eggs that your friends can vendor as a reward. Check out our guide on how to organize your own Noblegarden hunt.
Updated for 2019