WoW
May 10, 2019 6:00 pm CT
Everyone can be an engineer and make cool things with Mechagon's tinkering system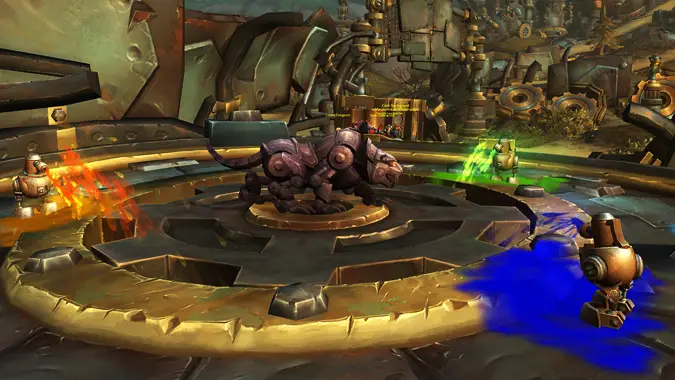 Mechagon Island is coming in patch 8.2, but it won't be like a standard zone. This area will focus on exploration and creation, letting us find things and build our way through the zone with a new Junkyard Tinkering system. While it's not exactly like the Engineering profession, it has a lot of the same feel in regards to building cool things and experimenting with technology.
The zone is based on collecting materials and turning them in to NPCs to complete projects. The more common material is Spare Parts, but there will be other objects that are likely more rare. Many mobs will drop these, allowing players to grind for materials, and you can even get them from fishing specific pools and breaking down the fish into parts.
One of the first projects you may encounter is the customizable Mechanocat Laser Pointer mount. When you first build it, the default color is blue. However, you can acquire eight more colors from various activities on Mechagon. Collecting all eight will grant an achievement: Available in Eight Colors.
There are also a whole plethora of toys and consumables and fun things to build. Of particular interest are items that look like they will be useful in exploring the zone, which could be like Muffinus' example of building a turret to help take down a rare. There is also Rustbolt Resistance Insignia, which looks like it could be a grindable rep catch-up. If you can acquire this early enough, it may be a way to grind for flying — otherwise, it will just be a way to earn more rep on your alts. You can even build your own Black Market Auctioneer to access the Black Market Auction House from anywhere.
The meta-achievement, Junkyard Architect, is granted for unlocking all the blueprints on the island. Each of these blueprints will allow you to build something different, and more are likely to be added based on the numerous "DNT" entries in the PTR files. To see everything you can make so far, check out Wowhead's preview of all the Junkyard Tinkering Blueprints that we know of.