The Queue: I'm on to you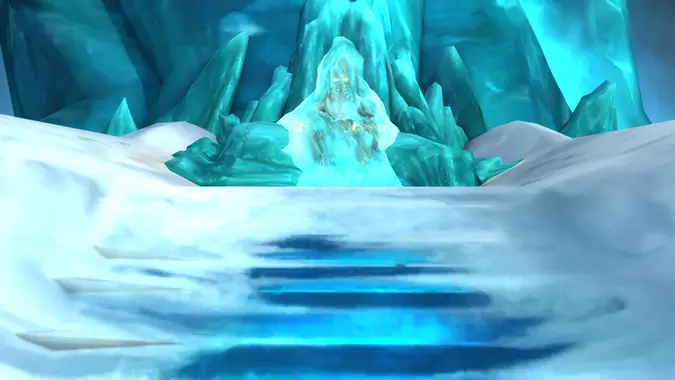 Welcome back to The Queue, our daily Q&A feature for all of Blizzard's games! Have a question for the Blizzard Watch staff? Leave it in the comments!
Look, I know we're all obsessed with underwater shenanigans and mechanical hi-jinks and a faction war, but I see you, you overgrown popsicle, and I know you're up to something. I don't know what that something is, but I'm bracing myself for it anyway. Don't think you're getting by unnoticed, because I'm watching you.
I'm also watching the Queue, and now I'm answering questions!
---
FUZZYBUNNY ASKED:
Q4tQ: Were all the Loa killed in BfA?
Nope! Rezan, Shadra, and Hireek were killed, but that's it. I should point out though that death isn't really a thing for loa — they can come back. It's something that we've seen with the Ancients during Cataclysm, and even with Yu'lon's life cycle in regards to the August Celestials. All of these are filed under the "Wild Gods" category — and it's been made apparent that while Wild Gods can be killed, it doesn't mean they're gone for good. They're immortal, pretty much.
---
MISTAH JAY ASKED:
Can Legion LFR be solo'd?
Yep! I don't think there are any particular mechanics that negate soloing like you find in Hellfire Citadel — maybe Aggramar, just due to his knockback. As long as you've got decent gear and you put out a reasonable amount of DPS, you shouldn't have any issues. Higher levels of difficulty will likely take more than one person, though — unless you're super decked out in the best raid gear you can get.
---
AUSSIEEEVEE ASKED:
Can someone refresh my memory as to the heritage armor release? Allied races got theirs when they were released. Dwarves were 8.1 and Gnomes will be 8.2, right Assuming I'm right, will we get another in 8.3 and which race would it be?
Correct — and it's entirely likely we'll see more in 8.3. Given everything that's happened to date, I think Night Elves are probably the most likely Alliance option. They've been through a lot this expansion, and I think that a look back at their roots would be thematically appropriate as they're trying to reclaim their territory and rebuild what they've lost.
Alternatively, there's also an excellent chance we might actually see Worgen. They're due for a remodel soon, as are Goblins, and it would be easy enough to throw together a Heritage Armor set while re-working the models. Having a Heritage Armor quest chain would also allow all those new models to be appropriately shown off once they're complete. And hey — I'd be down for another really good Worgen storyline!
---
ENO ASKED:
All the Zandalari you meet in MoP have a bluish skin tone. Is this because of their allegiance to Lei Shen who empowered them or is it just the devs changed their mind on the look of the Zandalari in BfA?
I think it was honestly because those were just NPC characters, so they were made the same color for a sense of unity/design. We were never meant to play them, so they didn't need variety, they just needed to be easily identifiable as "These are the mobs I need to take out." Since the Zandalar in Battle for Azeroth were intended to be a playable race, they were given a variety of skin tones for players to choose from.
---
PIDIA ASKED:
Q4TQ: Who is the Queue's mother? I vote for Liz!
I don't know, but it's not me. I'm not your mom. I'm not anybody's mom, I just like internet dragons and stuff.
---
MISTAH JAY ALSO ASKED:
Why do questing Zandalari NPCs consider me part of the Horde and not Zandalar? not enough time for flavour dialogue?
The thing is, if they did this for the quests you get from Zandalari, they'd have to do it with every quest that ever refers to your race — and for every Allied Race out there. And I'll admit, it was super weird when I was leveling my Shal'dorei and everyone out in the world was just cool with the idea of this ancient former Night Elf running around, and knew what they were called, and didn't really seem to acknowledge the whole ten thousand years isolated under a bubble thing. It would have been nice if the weirdness of it all had been acknowledged.
Unfortunately, that would take a lot of time to accomplish, because there are a lot of quests out there that make those kinds of references. In my mind, it kind of falls under the same area as Cataclysm quests — most of these quests are clearly referring to stuff that happened ages and ages ago, way before any of the Allied Races chose to align with either faction. But trying to revamp every single old quest is the kind of monumental undertaking that requires an entire expansion to do — we saw it already with Cataclysm. I think that the developers would rather focus their time and energy on giving us new stuff, instead of constantly going back to revamp old material.
---
BUCKWYSTER ASKED:
Q4tQ: With Paintable mount in mechagon… does this mean we might see dyeble/paintable armor in the future?
As much as I'd like to say yes (and I'd really love to say yes), I don't think so. People have been clamoring for armor dyes for years, and Blizzard's always been pretty dead-set against the idea, just due to the amount of work involved given how much armor is currently available in the game. Mind you, both Rossi and myself have discussed the idea that re-coloring that old armor isn't really necessary — it would be fine if they just introduced dye-able armor as a feature of the next expansion, and kept it going from there. But I'm still doubtful that they're actually going to do it, regardless of how badly the player base would like to see it happen.
That's it for today's Queue — if you have any questions you'd like to see answered, be sure to leave them in the comments below!