Off Topic: On the Game of Thrones series finale, we find out if the game can ever truly have a winner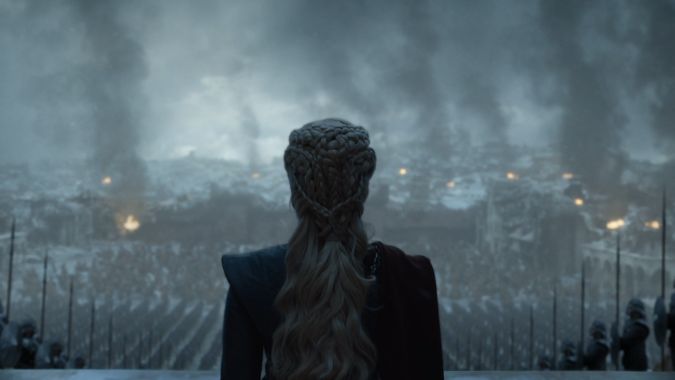 Do not read this post or its comments if you don't want spoilers for the Game of Thrones series finale. 
It was never going to be easy to end Game of Thrones. Never mind that the final season had only six episodes or that the series has been working "off script" for a couple seasons now. Ending a series as big as this — one as expansive, one with as many plots, and especially one with as fervent a fan base — is never going to satisfy everyone.
So it's probably no surprise that the final episode has been met with mixed responses — albeit not as divisive as last week's. Overall, my relatively small corner of the social media world seems to be okay with the episode — neither blown away nor completely angry at it. I'd say I'm pretty much in that same camp.
The episode starts with what the show is pretty clearly portraying as the good guys observing the destruction Dany and Drogon have brought upon King's Landing. Tyrion, Jon, and Davos are all more or less speechless at what they have helped make happen, though they also seem pretty firmly against letting anything like it happen again (at least, in these scenes… more on that in a second). Before Tyrion can, presumably, meet with Dany, Jon offers to go with him or at the very least to send soldiers with him, since he realizes Tyrion is not safe. Tyrion, however, says he must go alone.
It's not until we see where he's headed that we realize why he insisted on going alone. Rather than going straight to Dany, he wants to see what happened to his siblings. In what was frankly one of the most affecting scenes in the entire season, Tyrion discovers that, despite his efforts to help, Jaime and Cersei didn't escape. He first sees Jaime's fake hand, then he uncovers both of them enough to know for sure he's the only remaining Lannister. Again, it was one of the saddest, best acted, most affecting scenes tonight, and it hurt to watch.
Over the course of the next few scenes, Dany gives a terrifying speech about "freeing" the remainder of the world, Tyrion throws away the Hand of the Queen pennant and is jailed, and Jon (seemingly) insists on being loyal to "his Queen." I admit being surprised when, one scene later, he stabs Dany mid-embrace. When they started to kiss, I kind of expected he was at the point of no return. It was quick and unexpected, in a way both very much "Game of Thrones" and also underwhelming. I'm still processing this one and can't decide if I love it or hate it.
What I definitely was less of a fan of was what followed — a several-week time-jump wherein no one else has died, representatives from the Seven Kingdoms are sitting around, and Tyrion argues that the Kingdoms should be ruled by… Bran.
This is likely to be the part of the episode that upset people most, and I can't really blame them. I'm not mad about it, exactly, but… it just kind of is. I'm glad Sansa chose to keep Winterfell and the North as independent — which also means Bran rules the "Six Kingdoms" — but it still felt kind of unearned.
The rest of the episode is more or less spent showing us where each remaining Stark ended up. Jon is banished to the Night's Watch, Arya is sailing west to see what's out in Spinoff Land, and Sansa rules the North like the badass she is. It was nice for the little family that has been down on their luck since the beginning, but it still felt a bit odd.
Regardless, the show is over and things do seem as peaceful as they've ever been. It wasn't a perfect ending, but it wasn't terrible either, and I'm going to miss being around the world of Westeros all the same. No matter what you think of these final few episodes or seasons, it's hard not to recognize what a modern spectacle this entire series has been.
Really, I'm happy to have had it and to have been along for the journey.
Misc. notes:
Grey Worm can apparently teleport, because he's waiting at the top of the steps near Dany when Jon — who left for the same place long before him — begins walking up the steps toward her.
Speaking of Grey Worm, he spends most of the episode scowling… but I do feel a tinge of emotion when he sets sail for Missandei's homeland. He was a soldier deep down, but his final note was still tied to the one he loved.
Drogon's scene with Dany is almost as sad as Tyrion's. He may be a destructive force of death, but he was acting on behalf of his mother, who is now dead before him, having never even sat on the Iron Throne. Nudging her corpse, crying out, burning the Throne, and then flying off with her showed how much Drogon understood in no words at all. It really was heartbreaking.
There is a bit of poeticism to Jon and Dany (relatives) being lovers for a bit and then Jon becoming a Queen Slayer. I appreciate that there are at least some parallels between him and Jaime.
So, uh… what exactly does the Night's Watch even do now?..
That's it! I'm probably missing a few thoughts here, but we can always chat in the comments. Thanks for reading these and hanging out and sharing your thoughts these past few weeks. I've enjoyed it quite a bit.