The best WoW Classic addons you can download right now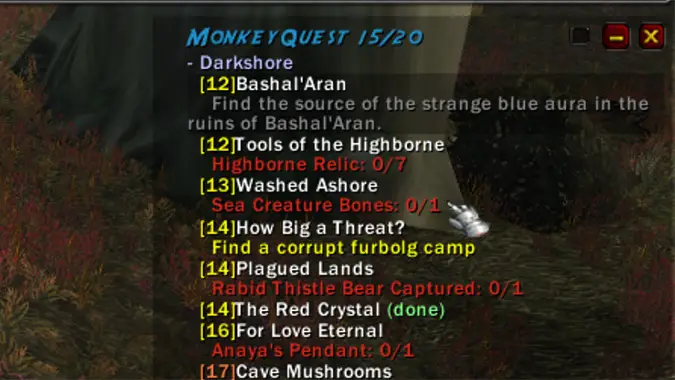 If you're in the WoW Classic beta or you're participating in the last stress test, you might feel a little naked without your addons. Thankfully, there are already a bunch of addons that work with the game, and addon-makers are creating new ones every day.
There's a whole list of websites that are trying to compile the working WoW Classic addons. The easiest one to parse through is Will It Classic. The site has a list of addons — including a search function — and has color-coded each one to signify whether or not it's working on the beta client. Keep in mind that the client runs on the Legion API, so there are a few semi-current addons that work without any tweaking by their creators.
Like with addons in the current game, you just need to drop any of these addons into the addons folder — find it under /Interface/AddOns/ in the Classic beta folder, which is in your World of Warcraft folder by default. Then once you log on to the game, you'll want to make sure that the addons are enabled via the menu option on the character screen.
Our favorite classic addons
Our old friend Quest Helper isn't updated for the client, but there's !Questie and MonkeyQuest to help you track available quests and their objectives. The biggest challenge to leveling up in the beta is searching for where the quest objectives are, so if you're looking to hit the level cap fast, you'll need one of these.
Over on Warcraft Tavern you can find a working version of Recount to track your damage and healing done. There's also SellJunk which will automatically sell all junk to vendors. With your limited bag space in the beta, you'll definitely want this. There's also a version of TukUI there too, but it's still in early development.
Fans of WeakAuras will be delighted to know that WeakAuras2 is available on Classic. The popular addon lets you track both your and your enemies' cooldowns — and just about anything else — is working. Like the regular version, you can share WeakAuras with others.
Vendor Price is another addon that anyone playing the original game will love to have. With a simple press of CTRL, you can find out how much an item will sell to a vendor for. This is key for bag management as much of the game involves you never having enough space to fit all your stuff. Now you can accurately decide what to delete or sell.
Deadly Boss Mods is on WoW Classic. There's not a lot else to say other than that you should probably have this addon. It lets you know incoming attacks from enemies throughout the game's dungeons (and eventual raids), like Deadmines, Wailing Caverns, and Scarlet Monastery. It's still in a sort of beta form itself, but it's available right now.
If you want accurate maps, then you should go install Atlas World Map Classic. It's what you'd expect from Atlas — detailed, realistic maps that help you understand the world around you. It's much better than the blurry, mini-map that comes by default with the game. It doesn't seem like everything is included in it yet, but there's a status section that you can check as time goes on.
If I were you, I'd keep an eye out on these sites to look for updates and for more useful addons. It's a little frenetic out there in the addon world, but it seems like some good ones are quickly popping up.